2004 Playoffs
** FINALS **
Shannon's Tavern (3rd) VS The Playwright (1st)
Game 1: Playwright 10 - Shannon's 2
WP: Jerry Thomes (6-0) LP: Jay Malley (3-1) GW RBI: Al Martin

September 8, 2004 - the storyline may be getting old but the results are not. Playwright's pitcher Jerry Thomes dominated again tonight as he carried a no-hitter into the sixth inning against Shannon's in the first game of the finals.

The Playwright offensive attack made Thomes' job a lot easier when they plated four runs in the second inning. Al Martin's 2-run single would prove to be the game winner but Playwright's offense was not finished for the night. Speedy outfielder, Charlie Conners added a homerun in the third and Joe Broderick knocked in a pair with a fourth inning double. The five runs were more than enough for Thomes as he kept batters off stride for most of the evening.

Rob Rogers finally got to Thomes and put Shannon's on the scoreboard in the seventh when he homered to deep left. Timmy Malley, Steven Muldowney, and Rogers were the only Shannon players to reach base tonight.

"You guys took a lot out of us - we were tired tonight." Rob Rogers, talking to a Sidewalk Cafe player after game one of the finals. Rogers followed up the conversation saying that he was hoping for a rainout tonight (Thursday) so his team can regroup over the weekend. We will see if mother nature cooperates with Shannon's Tavern.

An interesting fact in this series. There are two father-son combinations: Jerry Thomes (pitcher) & son Jerry Jr (2nd baseman) both play for the Playwright. Their teammate, Jack Rogers, is the father of Shannon's Rob Rogers. Both Jack and Rob have put in many seasons in the M Street Softball League without ever winning a championship. One of them will take home the trophy and the bragging rights this year.
---
Game 2: Playwright 5 - Shannon's 1
WP: Jerry Thomes (7-0) LP: John Gregorio (2-3) GW RBI: Mike Smith

September 13, 2004 - on a clear but cool night Shannon's Tavern were looking to cool down the red hot Playwright and even the best of seven series. They got their desired rest and looked ready to give pitcher Jerry Thomes all he could handle.

However, Thomes was not accomodating as he dominated portions of the game and was backed by some clutch hitting by the Playwright veteran players. Shortstop and coach, Jim Fitzpatrick, opened the scoring with a long homerun to deep right field in the top of the first inning. Shannon's quickly ended any thoughts of a no-hitter in the first inning when Rob Rogers lined a single into left field. But Shannon's bats couldn't get Rogers home and the score remained 1-0 after an inning of play.

Playwright added a couple more runs in the second inning when Tommy Russell drove in a run on a groundout and Mike Smith added a RBI single. The score would remain 3-0 to the top of the sixth inning as both John Gregorio and Thomes were each pitching a great game.

In the sixth inning, Playwright put the game away on Mario Perella's two-run homerun which gave them a commanding 5-0 lead. Just prior to Perrella's smash Shannon's shorstop, Steven Couturier, made a great diving catch that he turned into a doubleplay. At the time the play kept the score at 3-0.

Shannon's broke Thomes's shutout in the seventh when 49 year old Eddie Rogers smacked a pinch hit triple to right center. "Shorten your swing and go with the pitch," was Ed's advice to his younger teammates. With Shannon's struggling to score runs and the series getting away from them the veteran Rogers may have the answer for game three.

Speaking of game three, the Playwright will be without their star third baseman, Mike Smith, for the remainder of the series. Smith got married over the weekend and is off to his honeymoon with his beautiful bride Kerri. The Playwright will certainly miss his glove and bat - though I'm pretty sure Mr. Smith will be monitoring the series on the internet.
---
Game 3: Playwright 8 - Shannon's 7
WP: Jerry Thomes (8-0) LP: Jay Malley (3-2) GW RBI: Jerry Thomes Jr.

September 14, 2004 - with a two game lead the Playwright was feeling very good about its chances entering game three. Star pitcher, Jerry Thomes, has dominated the series to a point where Shannon hits are getting applause and scoring runs is an after thought. So with their backs against the wall Shannon's was looking for a win to get back into the series.

Unlike the first two games, this one featured four lead changes and exciting play throughout the game. It was Jay Malley's turn to toe the rubber for Shannon's while Ralph Alacandro took the ball for the Playwright.

Playwright's Charlie Conners wasted little time in putting his team ahead when he hit a two-run homerun to right center in the bottom of the first inning. But Shannon's fought right back and answered with two runs to tie it (2-2) in the second. Joe Broderick answered that with another run for Playwright and the see-saw battle was on.

The teams would trade runs in the third inning before Broderick connected for his second RBI of the night in the fourth. At this point Playwright was in control and led 5-3.

However, Shannon's bats came to life in the fifth when Steven Couturier doubled home Timmy Malley making it a 5-4 game. Brian Ahearn then tied it with a single that scored Couturier from second. Two batters later, Chris Martin tripled home two more runs and Shannon's was back in the lead (7-5) and feeling good about their chances.

With his team now in the lead, pitcher Jay Malley shutout the Playwright attack through the fifth and sixth innings. By this time, Jerry Thomes had relieved Alacandro as Playwright hoped Thomes could keep the score close. The crafty veteran did his part through the sixth and seventh innings giving the Playwright one more chance in the bottom of the seventh.

In the seventh, Joe Broderick started the inning with an infield single. Charlie Conners then reached on an error and suddenly Shannon's was looking at a possible defeat. Jimmy Fitzpatrick then flied out to deep right that scored Broderick making it a 7-6 game. On that play, Conners alertly tagged up and went to second. The speedy Conners then scored the tying run (7-7) on an Alacandro base hit to center field.

With the game suddenly getting away from them, Malley and Shannon's beared down and got Jack Rogers on a fly out to center for the second out of the inning. Jerry Thomes Jr was next up and he quickly smacked a 0-1 pitch down the left field line. The Shannon outfielder gave chase but the ball was hit in "no mans land" and Alacandro scored the game winning run from first. As the celebration went on around home plate the stunned and very silent Shannon players trudged off the field thinking what might have been.
---
Game 4: Playwright 11 - Shannon's 2
WP: Jerry Thomes (9-0) LP: John Gregorio (2-4) GW RBI: run scored on error

September 15, 2004 - Playwright's pitcher Jerry Thomes was the difference again tonight as he limited Shannon's attack to 2-runs on five hits while earning the series clinching victory. After the game, Thomes was unanimously named the MVP of the playoffs. Amazingly, Thomes walked only three batters over the entire season (including the playoffs)!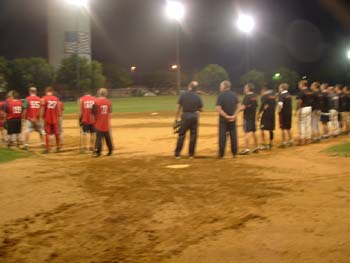 Players lineup before the game for the playing of our National Anthem.
The Playwright attack put the pressure on Shannon's when they plated two runs in the top of the first inning and added another in the second. Shannon's Chris Martin answered with a long homerun to deep center field in the bottom of the second making it a 3-1 game.
In the third inning, Ralph Alacandro scored on a ground out putting the Playwright back up by three at 4-1. An inning later, Charlie Conners' 2-RBI triple increased the lead to 6-1 putting the game seemingly out of reach for Shannon's.
While Shannon's was falling further behind and with their season slipping away, veteran and good guy player, Eddie Rogers could still be heard yelling encouragement ("Make em earn it!!") to his teammates. It nearly worked as Eddie Fletcher just missed hitting a three run homerun which would have cut the lead to two runs.
Instead, Playwright put an exclamation point on the game and the series in the seventh when they scored five runs to increase their lead to 11-2.
In a year that was very competitive in the M Street Softball League having a 4-game sweep in the finals came as a surprise to this writer. Shannon's Tavern showed a lot of character and skill to get past the Sidewalk Cafe but the Playwright and Jerry Thomes proved it all year long that they were the class of the league and tonight they showed it. Congratulations to coach Jimmy Fitzpatrick and the M Street Softball League champions - Playwright!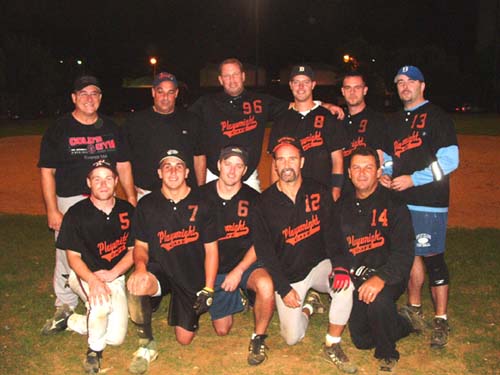 2004 Champions - Playwright
From left to right (front): Al Martin (C),Charlie Conners (OF), Joe Broderick (OF), Jack Rogers (IF), and Mario Perrella (1B).
From left to right (back/standing): Jerry Thomes (P), Ralph Alacandro (P), Jimmy Fitzpatrick (coach/SS), Tommy Russell (OF/IF), Darryl Alexander (1B), and Jerry Thomes Jr (2B).
Missing from the photo are: Michael Smith (3B) and Mike Broderick (OF).
---
Playwright wins best of seven series 4-0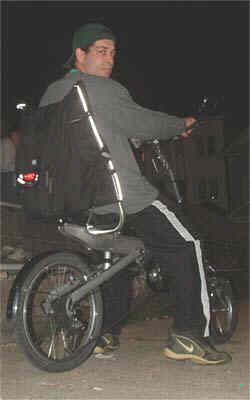 Steven "Cootch" Couturier peddles away on his "E Bike" after Shannon's falls in game four.
SEMI FINALS
Spartans (4th) VS The Playwright (1st)
Game 1: Playwright 6 - Spartans 0
WP: Jerry Thomes (3-0) LP: Maurice Wiggins (1-1) GW RBI: Michael Smith

August 30, 2004 - Although the Playwright started the game with only eight players, pitcher Jerry Thomes could have won with less as he dominated this one from start to finish. The Spartans offense looked confused and overmatched as Thomes struck out seven and gave up only two hits earning the shutout.
---
Game 2: Playwright 7 - Spartans 1
WP: Jerry Thomes (4-0) LP: Jimmy McNiff (1-1) GW RBI: Jimmy Fitzpatrick

August 30, 2004 - Thomes' dominance continued in game two as he limited the Spartans to six hits while giving up a run in the seventh inning.

While Thomes was dominating from the mound batters Charlie Conners, Jack Rogers, and Michael Smith were providing the big hits for the Playwright. Helping the Playwright's cause with some great defensive plays in the outfield were Conners and Joe Broderick.
---
Game 3: Playwright 11 - Spartans 0
WP: Jerry Thomes (5-0) LP: Jimmy McNiff (1-2) GW RBI:

September 1, 2004 - The Playwright advanced to the finals tonight after another dominating effort by their pitcher, Jerry Thomes. The Spartans, who are young and athletic, could not get their offense going at all in this series as they were held to one run in three games.
---
Playwright wins best of five series 3-0
Shannon's Tavern (3rd) VS Sidewalk Cafe (2nd)
Game 1: Sidewalk 4 - Shannon's 3
WP: Mark Senna (2-0) LP: John Gregorio (1-1) GW RBI: Brendan Flynn

August 31, 2004 - Sidewalk's pitcher, Mark Senna, held Shannon's powerful offense in check scattering four hits and three runs while picking up the win. As expected the first game of the series featured plenty of great defensive plays which was highlited by a Shannon player being thrown out at home on a relay in the sixth inning.

Sidewalk's John Oliveira and Brendan Flynn (3 hits) provided the offensive punch with each stroking homeruns.
---
Game 2: Shannon's 8 - Sidewalk 7
WP: Jay Malley (2-0) LP: Steve Passatempo (1-1) GW RBI: Chris Martin

August 31, 2004 - Chris Martin hit a towering homerun to right to break a 7-7 tie in the sixth inning as Shannon's tied the series at a game a piece.

After scoring six runs in the first inning Shannon's lost their focus and composure while Sidewalk regrouped and mounted a rally that tied the game in the top of the sixth. With Sidewalk sniffing another comeback victory Martin answered the call with his blast in the home half of the sixth. Sidewalk threatened in the seventh with runners on first and second but Shannon's pitcher, Jay Malley, stayed sharp and focused producing two fly outs to end the thrilling game and tie the series.

The two teams will play game three on Wednesday and game four on Thursday as this very competitive series continues.
---
Game 3: Sidewalk 4 - Shannon's 3
WP: Mark Senna (3-0) LP: John Gregorio (1-2) GW RBI: Tommy Connolly

September 1, 2004 - Right fielder Tommy Connolly tripled on an 0-2 inside pitch to deep right that scored Marty Jimenez from first in the bottom of the seventh inning giving Sidewalk the 4-3 come from behind thrilling victory.

Sidewalk never led in this one as they fell behind 2-0 on Robbie Rogers' bases clearing single in the second. They kept the score close by answering with a pair of their own in the home half of the second to tie it at 2-2. At that point, this one was just heating up folks.

Shannon's went ahead again in the third when Chris Martin singled home Jimmy Burgio from second base. But Sidewalk answered with a run of their own in the fourth when Charles Zaniboni singled home Bobby Dobay who had led the inning off with a double. The two teams were trading blows but neither would give in.

With the score tied at 3-3, Shannon's found themselves in a hole when Sidewalk had runners on first and second with nobody out. Pitcher John Gregorio then beared down and got a double play that left a Sidewalk baserunner on third. But Gregorio stayed focused and got out of the inning on a fly ball to left. It was on to the sixth inning with the score still tied at 3-3 - another M Street classic was in the making!

Eddie Fletcher led the sixth off with a double to right that got the Shannon's bench up thinking they were about to take the lead. An out later followed by a walk left power hitter Robbie Rogers staring down Sidewalk's pitcher Mark Senna. Rogers drilled an 0-1 offering right back through the box but Senna got a glove on it and threw out the baserunner going to second. Sidewalk escaped damage when the following batter flied out. This wouldn't be the last tight-rope walk Sidewalk would pull off.

After a Sidewalk 1-2-3 sixth inning, the Shannon players charged off of the field looking to finally break the game open in the seventh. Burgio led off with a soft single to right followed by a SAC fly that moved the big lefty into scoring position. For the moment, things were looking good for Shannon's but the next series of plays could be debated for years to come.

Timmy Malley hit a grounder to first that had Senna breaking to the bag for coverage. The toss was there and the tag was applied but the umpires saw it differently. The end result had runners on the corners for Shannon's with just one out. In stepped Paul Cedrone who hit a one hopper back to Senna. After looking to first he quickly fired to third that caught Burgio leaning from the bag. After a quick "debate" there were now two outs but the weaseling out of the inning wasn't over yet for Sidewalk. A two out walk to Eddie Fletcher loaded the bases. Shannon's then called on pinch hitter Brian Ahearn. On a 1-1 count Ahearn hit another one hopper back to Senna who fliiped to the catcher for the force out and Sidewalk had pulled off another "Whodini" act.

With Marty Jimenez standing on first Sidewalk's Tommy Connolly ended the see-saw battle with his deep drive to right. As Sidewalk celebrated the win at home plate Shannon's tried to console each other and regroup for game four.
---
Game 4: Shannon's 5 - Sidewalk 4
WP: Jay Malley (3-0) LP: Mark Senna (3-1) GW RBI: Brian Ahearn

September 2, 2004 - Brian Ahearn singled home Chris Martin from second base in the bottom of the seventh inning to give Shannon's the thrilling 5-4 victory that evened the best of five series at 2-2. The two teams will square off on Tuesday night in a one game winner take all.

Prior to Ahearn's heroics, Shannon's found themselves in another pitchers dual as Sidewalk's Mark Senna and Shannon's Jay Malley kept both offenses in check. Sidewalk and Senna led 2-1 entering the bottom of the sixth inning. Again, these two teams were involved in another M Street classic.

In the sixth, with one out and one on, the hot hitting Ahearn smashed an 0-1 pitch into the gap for a two run homerun that put his team up 3-2. Shannon's wasn't done scoring though as Eddie Fletcher and Timmy Malley both reached base with hard singles. Fletcher scored later in the inning on a Sidewalk miscue giving Shannon's the commanding 4-2 lead.

However, in the top of the seventh inning and with two outs Sidewalk fought back as they have many times in the past. Bobby Dobay and John Oliveira both reached base with line drive singles. Steve Passatempo was then called in to pinch hit and with two strikes - Passatempo drilled a Malley offering into right center that plated both baserunners tying the game at 4-4. Malley escaped further damage on a hard line drive catch by shortstop Steven Couturier.

In the home half of the seventh Shannon's wasted little time in getting runners on and setting the table for Ahearn's heroics. Ahearn, Malley and the rest of the Shannon's crew had earned the well played 5-4 series tying victory. After a weekend of rest the deciding game five awaits these two long standing rivals. It should be another beauty.
---
Game 5: Shannon's 9 - Sidewalk 4
WP: John Gregorio (2-2) LP: Mark Senna (3-2) GW RBI: Rob Rogers

September 7, 2004 - Rob Rogers smashed two homeruns, one in the three run first inning and another in the four run fourth inning, and collected six RBI in pacing Shannon's offensive attack in their decisive game five victory over long time rival Sidewalk Cafe.

It was all Shannon's tonight as they threatened to score in every inning. Their offense rose to the occasion and picked up hard luck pitcher (lost 4-3 in Games 1 & 3), John Gregorio. Gregorio was backed by great defense from middle infielders Paul Cedrone and Steven Couturier and got steady play from all three outfielders (Fletcher, Malley, and Rogers).

Coach Brian Ahearn will now try to keep his team focused at the task at hand - to win that elusive title which is now up for grabs with Sidewalk's departure. The best of seven finals begin on Wednesday at 7:30 between Shannon's and the Playwright.
---
Shannon's Tavern win series 3-2
QUARTER FINALS
Hit Dawgs (8th) VS The Playwright (1st)
Game 1: 8/23/2004 - Hit Dawgs 0 vs. The Playwright 22

Game 2: 8/23/2004 - Hit Dawgs 2 vs. The Playwright 15

Playwright wins series 2-0
The Junction (7th) VS Sidewalk Cafe (2nd)
Game 1: 8/24/2004 - The Junction 6 vs. Sidewalk Cafe 23

Game 2: 8/26/2004 - Sidewalk Cafe 13 vs. The Junction 7

Sidewalk wins series 2-0
Boston Beer Garden (6th) VS Shannon's Tavern (3rd)
Game 1: 8/25/2004 - Beer Garden 3 vs. Shannon's Tavern 15

Game 2: 8/25/2004 - Shannon's Tavern 12 vs. Beer Garden 0

Shannon's wins series 2-0
Il Giardino Cafe (5th) VS Spartans (4th)
Game 1: 8/26/2004 - Il Giardino 5 vs. Spartans 7

Game 2: 8/26/2004 - Spartans 10 vs. Il Giardino 8

Spartans win series 2-0
Playoff Game for 5th Place
8/24/2004 - Il Giardino Cafe 11 vs. Boston Beer Garden 10