Last Wednesday evening Shenannigans completed a three game sweep over the Warehouse and won their fifth consecutive M Street Softball championship. Shenannigans joins the Paul Alessi and Jackie Feeney led Ocean Kai/L Street Tavern team (1990-1994) as the only two teams to win the title five straight years.
Shenannigans got things rolling on Monday when they took advantage of some poor defensive play and cruised easily to a 6-1 victory. This was a record setting game for all the wrong reasons as the Warehouse played uninspired softball while committing eleven errors! Almost every player contributed to the record of miscues - there were throwing errors, dropped balls, and plenty of mishandled grounders.
While this was taking place, Mike Hoadley was busy tossing a four-hitter while leading Shenannigans to the game one victory. Dave Conti, Eddie Delcarmen, John Hoadley, and Luis Colon all collected two hits in the win.
It should be noted that Shenannigans had a full roster of championship driven players who wanted to be on the field. They arrived early, got in a full stretching session; one group enjoyed a spirited game of "pepper" while others chased fly balls in the outfield. Needless to say, the defending champions were very active and ready to go by game time. On the other hand, the few (only 7) Warehouse players who were at the field sat on their bench and watched Shenannigans go through their warm up. As an observer of many playoff games, I have to say that this game was lost before Mike Hoadley threw his first pitch.
Game two of the series was played on Tuesday night and was a different story all together. The Warehouse learned from their mistake in game one, had all of their players present and was ready to go by game time. They got an extra motivational boost when they saw Joey Venuti in uniform and warming up. As outlined in last week's article, Venuti missed a couple of playoff games to undergo a treatment for his thyroid cancer. Yet, here he was at M Street Park anxious to get back on the mound and give his team everything he had.
Venuti was opposed by the league's best pitcher (tops in ERA and strikeouts) in lefty Nick French. With two experienced and talented pitchers on the mound, scoring runs would prove to be a very difficult task in game two.
After three scoreless innings, Shenannigans struck in the fourth when Al Martin hit a triple to deep left center and then scored on Dennis Hajjar's (2 hits) double. Greg Trudell increased the lead when he dropped a double down the right field line that scored two more making it 3-0 and that would be all the scoring for Shenannigans.
French, who was mowing them down through five innings, ran into some trouble when Ryan Martin led off the sixth with a single and later scored on Brendan McGinn's bases loaded sacrifice fly. The Warehouse loaded the bases again in the inning but couldn't get the big hit to tie the game as French would strike out the side in the seventh to end the uprising.
With their backs against the wall, the Warehouse would need to be perfect in game three to get back into the series. With Joey Magee on the mound and looking very sharp, they built a 2-0 lead in the fourth when lefty Brendan McGinn smoked a ball to right center and later scored on Dave Blandino's single. In a move that would prove pivotal, Shenannigans sent Nick French out to relieve Mike Hoadley in the fifth.
Up until this point, the Warehouse was getting top performances from their key players and were about to get back into the series. However, the game turned in the bottom of the fifth. With two outs and a runner on first base (Steve Stalcup), Dave Conti reached on an infield error. Al Martin then delivered another clutch RBI hit that scored Stalcup making it 2-1. Next up was lefty Dennis Hajjar who wasted little time in doubling to deep right center plating Conti and Martin giving Shenannigans a 3-2 lead. French then reached on another error which drove Hajjar home with the fourth run of the inning. Shenannigans would add an insurance run in the sixth when pinch hitter Brian Erwin singled home John Smith making it 5-2 and just like that the series was over.
At the conclusion of the game, Nick French was named the unanimous MVP. From start to finish this year, French was dominant on the mound. His record breaking 0.88 ERA was a great regular season statistic but the "Frenchman" improved that number in the playoffs by tossing 24 innings and yielding only two earned runs for a shiny 0.58 ERA! He was 4-0 and struck out 26 batters in the playoffs alone.
It should also be noted that Shenannigans played exceptional defense (their trademark) in this series. The usual gold glovers (Steve Stalcup, Luis Colon, Al Martin, and Dennis Hajjar) made plenty of "web gems" but Greg Trudell, who doesn't get much recognition, made several outstanding running catches in left field that saved runs and ended potential rallies. After the game Greg and his teammates were celebrating with well deserved victory cigars and plenty of cold beverages. They are the champions again and have earned a well deserved CONGRATULATION!
Although the team carried the name of their once proud sponsor located on West Broadway, Shenannigans was actually sponsored by their lefty power hitting second baseman, John Smith. John, who owns the telecommunications company "Smithcomms" based in Weymouth, is a true professional in every sense of the word and is one of the nicest players in the league.
In closing, because of the field renovation project that didn't complete until July 11th, this was a shortened softball season at M Street Park. However, there is already a buzz about making 2014 a truly memorable season with multiple levels of play. The league has enjoyed 43 wonderful years and we want you to join us next season. Player clinics, free agent tryouts, and a rookie league are just some of the new additions to look for in 2014. Follow the league right here in South Boston Today and/or check our league website (www.sbsports.com) for the most updated information. Until we meet again, stay healthy everyone!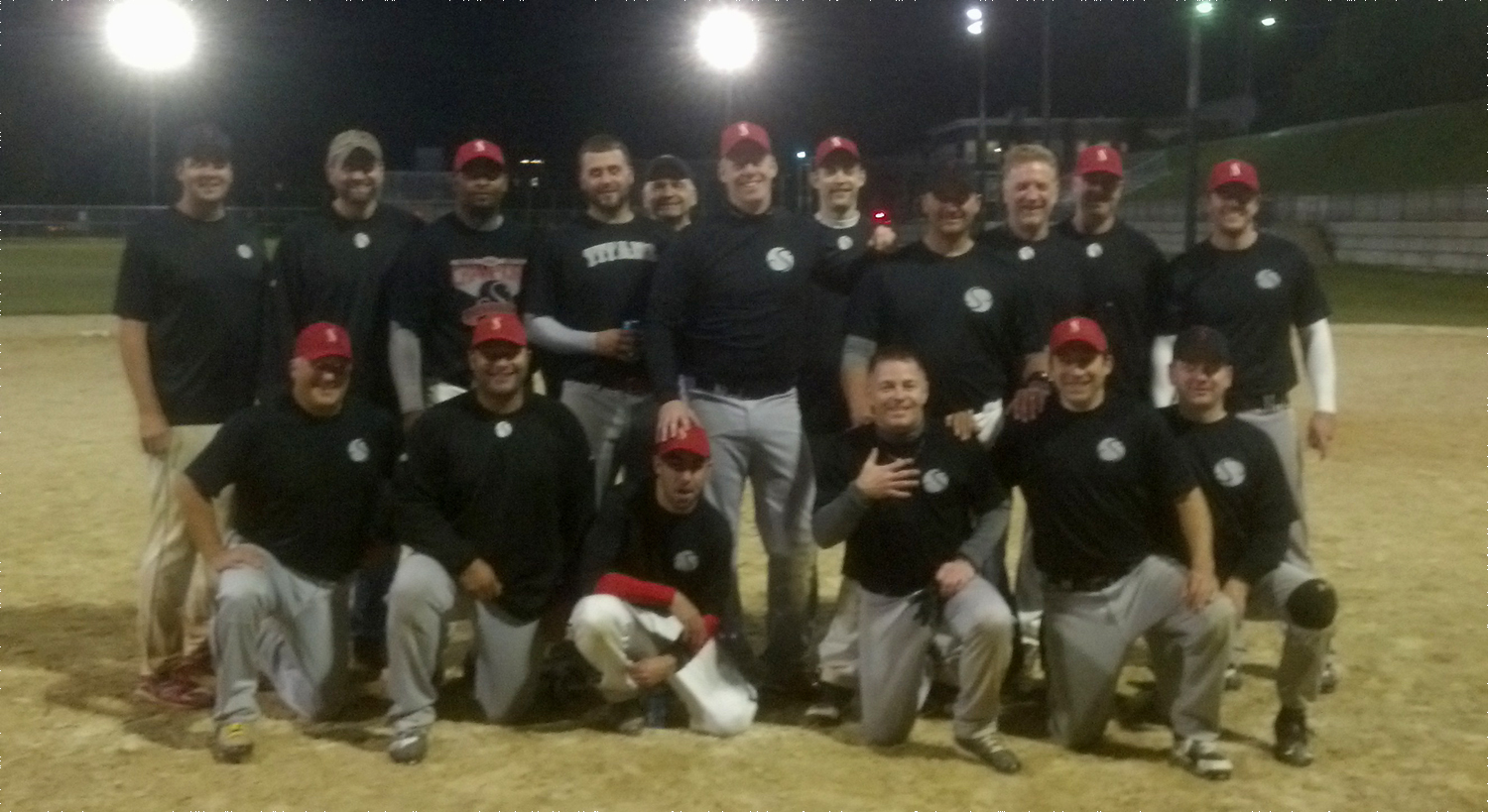 2013 M Street Softball Champions - Shenannigans Front row (left to right) - Dennis Hajjar, Eddie Delcarmen, Steve Stalcup, Al Martin, Dave Conti, John Hoadley. Back row (left to right) - Nick French (MVP), Dan Brown, Luis Colon, Brian Erwin, Mark Dion, John Smith, Marty O'Malley, Mike Hoadley, coach Jay, John Cavaleri, and Greg Trudell.