September 18 - the M Street Softball League "A" champion was crowned tonight. Lincoln Tavern battled the Boston Hitmen through five grueling games. Here's a recap of the last three epic battles:
---
Game 5: Friday, Sep. 17 @ 8:00
Lincoln Tavern 6 - Boston Hitmen 2
As Ric Flair was fond of saying, "In order to be the man, you have to beat the man." Playing the part of The Man in this year's production of M Street? Lincoln Tavern, and the Boston Hitmen couldn't get a three-count. Lincoln takes game five, 6-2, and the series, 3-2.
As expected, Nick French started for Lincoln. A slight surprise found Jose Bonilla on the mound for the Hitmen. However, it WAS his turn in the rotation and he (like French) was undefeated as a starter in this year's playoffs, so not a huge surprise. Since both starters were undefeated, something had to give.
Lincoln got on the board first. After one out in the top of the first, Taylor Ferguson singled. Will Brennan hit a sharp grounder to shortstop Anthony Peguero, a possible double-play ball, but Peguero mishandled it, putting men on first and second for Lincoln. Max Vigliotti stepped into one and lined it to left, but Brandon "Buddha" Lee was in position to snare it, two down, bringing Mike Selig to the plate. Selig delivered a single, scoring Ferguson. Chris Boyd (last year's MVP) followed with another single, scoring Brennan. Bonilla recorded a K to end the frame, but it was 2-0, Lincoln.
The Hitmen tried to replicate those runs in their half. A similar beginning - with one out, the next two men reached. However, Nick French retired the next two after that via strikeout. 2-0, Lincoln, after one.
Bonilla set down Lincoln in order in the second, and French did likewise to the Hitmen in the bottom of the inning. In the top of the third, it wasn't as smooth sailing. Micka Kent singled to lead off. Jeff Vigurs singled, and Taylor Ferguson followed with his second single of the evening, bringing in Kent to score. Knowing there was a fine line to walk if he wanted his team to stay within hailing distance of French, Hitmen coach Wepa made the move to Oscar "Chiqui" Eusebio, who had dueled toe-to-toe with French in the epic 13-inning game two. The first thing Eusebio did was to intentionally walk Will Brennan, loading the bases and putting on a force all around Vigliotti came up to bat. Chiqui sent him away via K, one down. And now came a point of contention between the two squads. Mike Selig hit a grounder. A force was made at second, but the throw to first was unsuccessful, Vigurs scoring to make it 4-0. Not so fast! Wepa came out and argued that the man going into second hadn't allowed a path for his defensive player to complete the play; runner interference, in other words. Upon discussion between the umpires, Wepa's point was taken. Two outs was the result, ending the inning and removing from the scoreboard that fourth Lincoln run. It remained a 3-0 game entering the bottom of the third. Lincoln filed an official protest of the game at that point.
As subsequent events made clear, the protest didn't matter. As the game continued, French blanked the Hitmen in the bottom of the inning, aided by a fine catch in right center by Taylor Ferguson. Gabriel Encarnacion pounded a French pitch deep, but Ferguson tracked it down. Francis Reyes, on first base, had taken off, expecting the ball to be a clean hit, and he was almost all the way to third when Ferguson collared it. He was easily doubled up when the ball came back to the infield. And then Lincoln came up with a score in the fourth. A base-on-balls by Boyd, then an out. Jeff White was awarded first base on catcher's interference, a call vehemently argued by Hitmen catcher Reyes, to no avail. Chiqui got the next man, and then it looked as though it all wouldn't matter when Sean Gorman lofted a fly ball to short center. The Hitmen fielder took a bead on it, one-handed it... and dropped it. Boyd scored, upping the tally to 4-0.
In the bottom of the fourth, the Hitmen received a glimmer of hope. After French had retired the first two batters, Chiqui Eusebio singled. Jonathan Serrano stepped in and unloaded, sending one out onto East First Street and cutting the Lincoln lead in half, 4-2. But that was all the scoring the Hitmen would do in this game. French allowed a couple of baserunners in both the sixth and the seventh, but his teammates tacked on insurance runs in fifth (an RBI single by Selig) and the top of the seventh (another Hitmen error, allowing Vigurs to score) that took off most of any true pressure. With two men on and two out in the bottom of the seventh, French delivered to Encarnacion, who hit a slow roller up the first base line. Jeff White grabbed it, stepped on the bag, and Lincoln Tavern finished the successful defense of their 2020 crown with a victory in the final game of 2021.
Your MSSL "A" Champions, once again - Lincoln Tavern!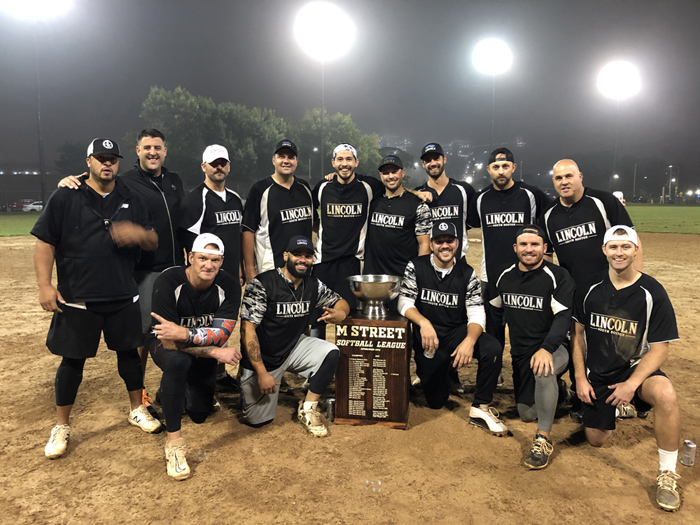 Back row (L-R): Max Vigliotti, Andy Hillier, Conor Gleason, Nick French (MVP), Will Brennan (Silver Slugger), Taylor Ferguson, Chris Boyd, Jeff Vigurs, and Jerry Sarro.
Front row (L-R): Mike Selig, Jared Kelly, Jeff White, Sean Gorman, and Mike Kent. Missing from photo but still champions are: Joey Fabiano, Dave Corcoran, Adam Feinstein, and Tim Murray.
Presentation of the M Street Cup was made by Commissioner Mark Senna, while individual awards were as follows: The Silver Slugger for best batting performance in the playoffs went to Will Brennan. The solid shortstop was 19-for-34 (.559), leading his team in runs batted in with 11. And the Most Valuable Player was no surprise at all. Nick French captured his third MVP award, having gone 6-0 in the playoffs with a brutal ERA of 0.66. A special honor will come French's way when, as a three-time MVP, his name and photo will be added to the M Street Cup for posterity.
A fine season by the Boston Hitmen, but a rousing defense of the title in the finals by Lincoln Tavern as they remain "The Man". Whooooooooooooooooo!
| | | |
| --- | --- | --- |
| | | |
| Nick French | Mike Selig | Taylor Ferguson |
---
Game 4: Thursday, Sep. 16 @ 8:00 (B rules)
Boston Hitmen 8 - Lincoln Tavern 7
And the Hitmen gathered their wits and their bats and showed they had what it takes to rebound from such a heartbreaking loss in game three. After being able to plate just one in the previous 13 innings, they started this one by scoring two. Anthony Peguero singled. With one down, Roger Peguero tripled, scoring Anthony. Junior "Junito" Tejeda's two-out single scored Roger. 2-0, Hitmen. Lincoln halved that lead when Jeff Vigurs doubled, then scored on a Will Brennan single. 2-1, Hitmen, after one complete.
Both pitchers (Jerry Sarro for Lincoln, Eric Mercedes for the Hitmen) put up zeroes in the second. In the third, both teams got one. The Hitmen scored when Gabriel Encarnacion doubled and then scored on Anthony Peguero's single. Lincoln scored when, with two outs, Taylor Ferguson tripled to right center. Will Brennan doubled to drive him in. It was now 3-2, Hitmen. And in the fourth, the Hitmen lengthened the lead to 8-2. A two-run Frankely Gonzalez homer, a sac fly by Francis Reyes, a bases-loaded walk by Anthony Peguero, and a single by Julian Alvarez accounted for the runs batted in.
After no score in the bottom of the fourth and top of the fifth, Lincoln closed the gap with a lot of help from the Hitmen. Joey Fabiano reached on an error. So did Dave Corcoran, but Fabiano tried to go to third and was thrown out. Another error followed. There should have been three outs but instead there were two on for Ferguson. He grounded back to Mercedes, who threw to Encarnacion for the second out. Brennan walked, bringing coach Max Vigliotti to the plate. Max doubled, clearing the bases, bring the score to 8-5. Conor Gleason followed with a single that scored Max (who looked to be nursing a bad hammy as he crossed home). Lincoln was back in it, an 8-6 Hitmen lead after five.
Sarro set the Hitmen down in order in the sixth, then Lincoln tried to get the equalizers. A base-on-balls by Micka Kent started things. Sean Gorman lined out. Fabiano singled , then Corcoran walked, loading the bases with one out. Hitmen coach Wepa decided it was time to bring in a big gun, Jose Bonilla. It paid off immediately when Bonilla struck out Jeff Vigurs. However, Ferguson singled, scoring Kent, and it was 8-7, bases still loaded and the always-dangerous Will Brennan up. Bonilla was equal to the task, getting Brennan to bounce one back to him on the mound, from whence he tossed it to Reyes at home for the third out.
The Hitmen failed to score in the seventh and now Lincoln once more looked to tie or win the game. Bonilla completed his allowed time on the mound by retiring the leadoff man. Hector Vega came in to pitch, and he got the second out immediately. Lincoln then put two aboard. Mike Selig hit a solid shot to left, off the fence, for a double. Jared Kelly walked. But they were stranded when Vega got Micka Kent to chase a low outside pitch for strike three, ending the game with score of 8-7, Hitmen.
The fifth and final game will be played at 8:00 on Friday. It promises to be a gem, so get your seats early!
| | | |
| --- | --- | --- |
| | | |
| Roger Peguero | Frankely Gonzalez | Jose Bonilla |
---
Game 3: Wednesday, Sep. 15 @ 8:30
Lincoln Tavern 2 - Boston Hitmen 1 (13 innings)
Both teams took the field at approximately 8:30 pm on Wednesday, but a decision wasn't reached until almost the same time Thursday. In between, they played 13 Innings, recorded 34 strikeouts, left 28 men stranded, and gave those fans who witnessed it the pitching duel that will define all other pitcher's duels at M Street from this point forward.
It began innocently enough with a Dave Corcoran single. After one out, Taylor Ferguson singled, then Will Brennan singled to drive in Corcoran. 1-0, Lincoln Tavern. Two more outs, including a strikeout for Hitmen flamethrower Oscar "Chiqui" Eusebio. In the bottom of the first, Nick French toed the rubber for Lincoln and struck out the first man he faced. Immediately following, Junior Tejeda stepped in, took a mighty swing, and sent one out of the park and onto East First Street. Tie game, 1-1. French gave up a single to Roger Peguero, then decided to intentionally walk Julian Alvarez, pushing the lead runner into scoring position with only one down, an interesting move in the first inning. It worked. French punched out the next two batters to end the rally. On to inning two, tied 1-1.
And that was all the scoring in this game until Thursday night.
Both pitchers, barring a few hiccups, settled in to comfortable grooves and ate up batters. In the second, Lincoln loaded them with nobody out (two walks and a single) but Eusebio induced an infield fly pop up and then struck out the next two, no scoring. French came back out in the bottom of the inning and struck out the side (he now had six Ks in two innings). Chiqui recorded his fourth K in the third inning, French didn't strike anyone out in the third, but he did set them down 1-2-3. In the fourth and fifth, Chiqui allowed no runs. Same story for French, who upped his strikeout total to nine with three more in the fourth. The last two strikeouts in that inning came after the second intentional walk to Alvarez.
In the sixth, Chiqui Eusebio allowed a single, but then struck out the next three. Jared Kelly had a leadoff double in the top of the seventh, but Chiqui stranded him and recorded his eighth strikeout to end the inning. French recorded his tenth K in the bottom half of the seventh after STARTING the inning by putting the winning run (yes, Alvarez) on base intentionally. On to extra innings!
The 8th, 9th and 10th passed without another score. Both hurlers were excellent. Eusebio struck out two more, bringing his total to 10. French struck out two in the eighth and one more in the tenth. He now had 13 Ks. Meanwhile, the league had run out of time. After getting an extension of the lights to try and finish the game on the same evening when it started, it was decided that not enough time remained for a full inning. Both teams would return on Thursday for the completion.
When the contest resumed, it was the 11th inning and Chiqui Eusebio was even more on fire than the previous night. He allowed two baserunners, but struck out three in the 11th, then struck out the side while allowing no runners in the 12th. Meanwhile, his teammates had their best shot at ending it when they loaded the bases with nobody out in the bottom of the 12th. Once again (for the fifth time in the game) Julian Alvarez was not allowed to bat; another pass, once again putting the winning run on-base intentionally. This time, it looked like the move might have finally backfired. Frankely Gonzalez followed with a single, Alvarez going to third. Chiqui Eusebio, who had taken over for DH Willy Sanjurjo in the Hitmen line-up, was also issued an intentional base-on-balls, loading the bases with none out. French got Buddha Lee to ground back to him, flipping the ball to catcher Sean Gorman for the force of Alvarez at home. One out. French recorded his 15th strikeout, getting Cashby Calderon swinging, two out. And then Francis Reyes grounded to Jeff Vigurs at second base, who threw to Will Brennan covering second for the final out. On to the 13th inning!
Mike "Micka" Kent drew a walk to lead off. Chiqui struck out Gorman (victim number 17) and Fabiano fouled out to Encarnacion on the first base line, two down. Dave Corcoran, who had scored the first run way back in the first inning, sharply singled. Kent came racing around third and hit home plate for the second Lincoln run of this marathon game! Corcoran took second on the throw to home, but was left there. On to the bottom of the 13th. Could the Hitmen get the equalizer and extend this game further?
They tried. Jonathan Serrano singled to lead off, bringing his bench to life, but Nicky French was up to the challenge. A strikeout of Encarnacion. Another strikeout (his 17th), this one on a nasty high breaking pitch to Anthony Peguero. And the final out was made when Tejeda, who had homered way back in the first for the lone Hitmen run, grounded to French, who ran halfway to first himself before flipping the ball to first baseman Joey Fabiano for the out that ended this amazing ballgame.
Lincoln Tavern takes the two games to one lead in the best-of-five. Both teams then had to turn it around and get back out there for game four...
| | | |
| --- | --- | --- |
| | | |
| Nick French | Oscar Eusebio | Dave Corcoran |
---
Important reminders from your commissioner:

Parking - guys please leave your cars at home as the available parking spaces around the field is VERY, VERY limited. Most spaces are Resident only so unless you are a South Boston resident then you will most likely get a $40 ticket that the league cannot cover. If possible, car pool, take the MBTA/City Point bus, or bike/walk to the park and save yourself the frustration.

Umpire/Scorekeeper fee - please pay the umpire $25 and pay $5 to the official scorekeeper BEFORE the game begins.

Forfeits - forfeits are not acceptable in the M Street Softball League as they cost the league money and waste everyone's time. With that said, if you know there is a scheduled game that is going to be a problem then let me know ASAP and I will work with you in finding additional players and/or cancelling the game all together.

Inclement weather/rain outs - the league will usually make a decision by 5pm on whether or not the game is on or off. Once the decision is made then the league will reach out to the coaches - we will not leave you without word. The league website (sbsports.com) will also be updated within minutes of a cancellation.

Bats - just a reminder that composite bats are illegal...however, bats that have a composite handle and metal barrel are OK. DeMarini Steel is a very popular bat in our league.

Equipment - the league will provide bases on a nightly basis.

Pitching rules - the Feeney/Moran("B") division is using the strict modified pitching style - no sling, no windmill, and no arc. It's pretty much straight back with the arm, a forward step to the plate, and deliver the ball. A great source on the "Classic Style" with videos can be found here 10manmodified.com/pitching-rules/videos-of-modified-styles/. The Lucas ("A") division is using a mix of both styles which is noted on the schedule.

Playoff eligibility - although the rosters are open there is minimum number of plate appearances (30), innings pitched (35), or games played (10) that a player must meet to qualify for the playoffs.

Stats, news, etc... - please check the league website for all the latest news, standings, stats, and more.

Schedule - we tried to evenly spread out the amount of start times for each team...it's not an easy or exact science. The regular season will run from May through the end of July. The playoff will start in August and run through September.

Wishing you and your players a great season of softball at M Street.

Sincerely,

Mark Senna
M Street Softball League