April 3 - the M Street Softball League (MSSL) will begin its 53rd season on May 2nd. Here's a short preview of what's expected.

First, look for "Tampa to Boston", a documentary series that was filmed mostly last season. It will feature your commissioner traveling from Tampa to compete in the 2021 season but will also feature everything that is M Street Softball. Starting in April, episodes will be available on Facebook, YouTube, and the league web site. Should be fun (and informative). Watch the trailer: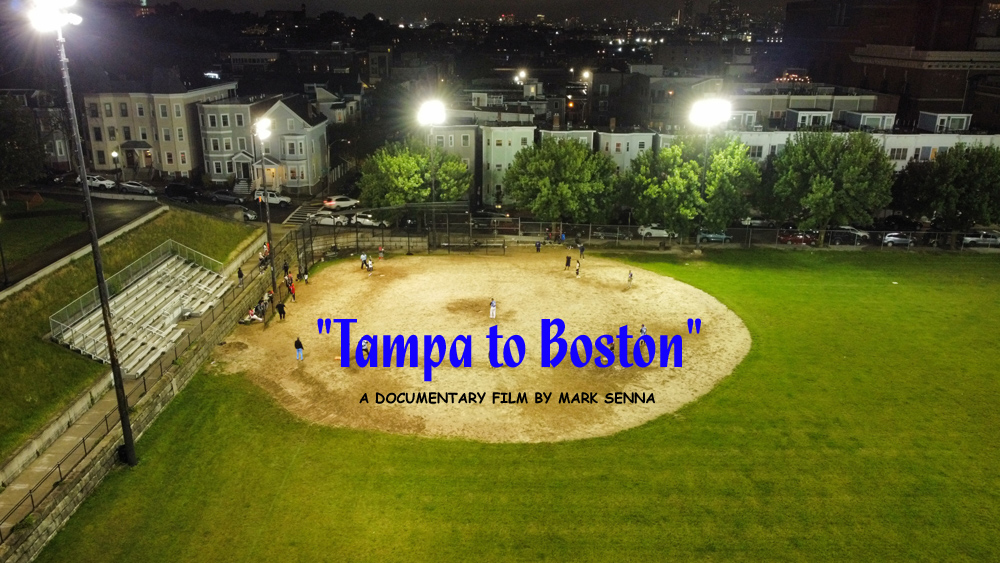 Second, I expect to be at the field every night. Most of you know me. I answer to Sully, Suldog, Jim, or "Hey, here's an ice cream!" I'm the scorekeeper who works most "A" games and also some of the "B". I was a player/coach here from age 42 until my final appearance in 2017 at age 60. I love this league, the players in it, the neighborhood and the history. As with Commissioner Mark Senna, my goal is to keep this fun but still highly competitive.
OK, let's take a quick look at last year and how that leads into what you might see this time around.
In 2021, the "A" division games were split evenly between sling pitching and strict modified. The "A" may one day become all-sling again, but this year will once more see both styles in equal amounts. The "B" division is all strict modified; no sling.
Last year's "A" division winner was Lincoln Tavern. Behind the MVP pitching of Nick French, they repeated their success from 2020. Will they be able to achieve a three-peat in 2022? It's going to be a rougher trip this time. They won't have French – more about him later – and they are also losing one of their big bats, Mike Selig. Another loss is the great gamer, modified pitcher Jerry Sarro. The rest of the core should still be here, including coach Max Vigliotti, and they may be signing former MSSL slinger Joe Burke to fill French's spot on the roster. As two-time returning champions, they automatically get respect. However, losing French (a three-time MVP) is a huge deficit to overcome.
The Boston Hitmen, who took Lincoln all the way to a fifth and deciding game in the finals, will be returning and looking to finish what they came up just short on last season. They are a very talented squad, high-spirited and well coached. They're loaded with good pitchers. Oscar "Chiqui" Eusebio dueled French last season in a finals contest that many consider the best-pitched game in the league's history, a 13-inning 2-1 affair won by Lincoln, wherein both pitchers struck out 17 opposing batters. The Hitmen also have the fine Jose Bonilla to sling, and the duo of Erick Mercedes and Hector Vega for modified. Cashbee Calderon won the league batting title and the rest of the line-up features good batters like Julian Alvarez, Roger Peqeuro and others. Very tough.
2019 champs Pat Simpson Club return for another go. Known by some as "the home team" due to so many local neighborhood players, they are consistently tough and will battle until the final out in every game. The returnees will include lots of veteran players who have championship experience, but the pitching may be the most interesting story for this team. Word has it that stalwart hurler Joey Magee won't be with them this year (more on that when we discuss another team) and so who will replace him as the team's slinger becomes the big question. Will it be longtime left fielder Marky Goodman? When he toed the rubber in past seasons, for short spurts, he showed good smooth speed and tremendous potential. Excellent modified hurler Big Mike Garland will be back, so those games should be well covered. Will Miguel Dupree be on the roster to lend his pitching hand – and his big bat? Interesting questions and lineup considerations abound for skipper Scotty Simpson.
Three teams from 2021 have elected not to return for action in the "A" division – The Boston Braves and DRC (some of whom will be joining forces with Pat Simpson Club now) have just plain left the league. Telegraph Hill is back for action but in the "B" division. Replacements in the "A" include "B" champions from 2021, Playwright Shamrocks, and new entries MJS and Fumanji.
MJS is run by former Lincoln Tavern (among others) player, Mike Selig, who has built some extremely talented clubs in the past on both the local and tournament levels. Scuttlebutt has it that his pitching staff will include Nick French, Joey Magee, Jerry Sarro and Jason "Eeka" Calnan. That is a formidable group. French is a three-time MVP who was undefeated last year in both the regular season and playoffs. Will he lose a game this year? Calnan is a former finals MVP also. If it's sling and you avoid French, you get "lucky" and have to face veteran fireballer Magee. Sarro could be a #1 on most teams in the league, but here? Hey, if you like good pitching, MJS looks to be worth watching every night.
Playwright showed grit winning the "B" last season. Can they move up and legit compete in the "A"? As you can probably tell by the remarks here so far, much of their chance will depend upon who they have pitching. They will likely need a good slinger, so anyone who is – or who knows one – might want to give coach Steve Folan a call. They'll hold their own hitting, and they have a decent fielding bunch. It's a good spot for someone who can sling but perhaps doesn't have the level of experience some of the other clubs look for.
The Loco Pirates, league champions in 2015, are perhaps the smartest team in the league. Led by veterans Charlie Conners, Pat Pickup and Brian Pacheco, they know all the percentages cold and are willing to kill you by a thousand small cuts if needed. They always take what you're willing to give them. For instance, they usually lead the league in bases on balls. Likewise, they will always try to limit your gains to the smallest possible. In other words, they rarely beat themselves and that makes them dangerous. Top off the intelligence with an ace sling pitcher like Jim "Country" Pinkston (league record holder for strikeouts in a season -146 - and in one game – 20 in a seven-inning contest!) and you have a consistently tough out for everyone else.
By the way, the Pirates are running a tournament on the M Street diamonds on June 11 & 12. The format will be strict modified, double-elimination. Entry fee is $500 per team and all league teams are welcomed to join. Contact Charlie Conners or Pat Pickup for more details.
STATS Sluggers is where another three-time MVP, Mark Senna, does the slinging. "The Commish" has the longest commute of anyone in the league, coming from Tampa, Florida, up to his hometown of South Boston to compete. An MSSL player and coach for... well, it seems like forever, the five-time champion with those great Sidewalk Cafe teams is still going strong and has a good young team that competes with the best. Tom Kazanowski pitches the modified games and has developed into a very good one at that discipline. Phil Scirreta leads a volatile offense, while a fine defense all around backs up the good pitching. This team has flown under the radar for a while, but it's doubtful anyone will take them lightly by this time.
Fumanji is the joker in the deck. They are a new entry and the roster is mostly unknown at this point. Some of the now-defunct Boston Braves will be on this team. One thing that is very intriguing – coach David Gonzalez may possibly have the most dangerous slinger in the league. Those who saw young Rafael Ramos throw for the Boston Braves last season will tell you that they have rarely seen a pitcher as fast (clocked at 70 MPH) in this league. If you want to know what hitters think, all you need to know is more batters wore batting helmets when facing Ramos than against anyone else. If he keeps that blazing speed of his under control...
As is usual for the league, last season's "B" winner moves up to "A". With Playwright gone from the "B", it's wide open for who takes it this year.
Is this the year for Handdukies? The Boys From Dorchester have been very close for a while now, with fine ballplayers all around. Or maybe La Familia is ready to step up. They showed flashes of brilliance. The team that seemed unbeatable for long stretches last year was Fat Baby, with Drew Atton on the hill and Derek Coderre always making his presence felt. Southside Tavern has a long pedigree in the league going back to when they were L Street Tavern in the 1990s! Lots of good players there. No one should overlook Telegraph Hill. They competed in the "A" division the previous two seasons, but now drop down in class. Every handicapper knows that's dangerous. Roza Lyons was up and down but has a load of talent.
All in all, there will be some 20 team competing for the gold in "B" and pretty much every one of them can give the others a good go. Publico is a heavy-hitting bunch who can hang with anyone. Shannon Tavern was a perennial contender when they competed as The Kekambas for a number of years. Do they still have it? VMT can beat anyone when they're on.
Silkworms are a good bunch of guys led by one of the best underrated hitters in the league in Dan Barzottini. Big Ballers have shown fairly consistent improvement year-to-year. Maybe this year they can be consistent throughout? Boston 224 Bombers have Tom Andrews at the helm and he's a good one, for sure. Broadway Brew Crew has the speedy Berluti brothers who almost always have an extra-base hit that's worth the price of admission.
Shamrock Pub (formally Local 149) has an interesting roster. They could be a wild card that shocks some folks. McCann/Joyce has one of my favorite league players, Keith "Beefa" Savage, with a cast of younger guys who are hungry and ready to heat up. Pastoral won't overpower but they will always compete. Pow Town are entertaining and might surprise some nights. Team Dandy have fun and are fun to watch.
To sum up, both divisions are expected to be a dogfight. The "A" will likely come down to the strongest pitching, but with games split once again between sling and modified, the modified rules games could decide seeding even when one or two teams have the best slingers. The "B" will again be a story of high-scoring, but with good defense deciding who ends atop the standings.
I'm looking forward to lots of fire this year. Bring your best and I'll see you at the park!
---
Important reminders from your commissioner:

Parking - guys please leave your cars at home as the available parking spaces around the field is VERY, VERY limited. Most spaces are Resident only so unless you are a South Boston resident then you will most likely get a $40 ticket that the league cannot cover. If possible, car pool, take the MBTA/City Point bus, or bike/walk to the park and save yourself the frustration.

Umpire/Scorekeeper fee - please pay the umpire $25 and pay $5 to the official scorekeeper BEFORE the game begins.

Forfeits - forfeits are not acceptable in the M Street Softball League as they cost the league money and waste everyone's time. With that said, if you know there is a scheduled game that is going to be a problem then let me know ASAP and I will work with you in finding additional players and/or cancelling the game all together.

Inclement weather/rain outs - the league will usually make a decision by 5pm on whether or not the game is on or off. Once the decision is made then the league will reach out to the coaches - we will not leave you without word. The league website (sbsports.com) will also be updated within minutes of a cancellation.

Bats - just a reminder that composite bats are illegal...however, bats that have a composite handle and metal barrel are OK. DeMarini Steel is a very popular bat in our league.

Equipment - the league will provide bases on a nightly basis.

Pitching rules - the Feeney/Moran("B") division is using the strict modified pitching style - no sling, no windmill, and no arc. It's pretty much straight back with the arm, a forward step to the plate, and deliver the ball. A great source on the "Classic Style" with videos can be found here 10manmodified.com/pitching-rules/videos-of-modified-styles/. The Lucas ("A") division is using a mix of both styles which is noted on the schedule.

Playoff eligibility - although the rosters are open there is minimum number of plate appearances (30), innings pitched (35), or games played (10) that a player must meet to qualify for the playoffs.

Stats, news, etc... - please check the league website for all the latest news, standings, stats, and more.

Schedule - we tried to evenly spread out the amount of start times for each team...it's not an easy or exact science. The regular season will run from May through the end of July. The playoff will start in August and run through September.

Wishing you and your players a great season of softball at M Street.

Sincerely,

Mark Senna
M Street Softball League