Every player this year has seen the big "56" on the left field fence, and a few of the newer guys have asked me about it. Here's the story for those still wondering. George Pratt wore that number. He was THE dominant pitcher at M Street for a few years. Check out these stat lines from 2002 and 2003.
| Year | Team | W | L | IP | H | R | ER | BB | K | ERA |
| --- | --- | --- | --- | --- | --- | --- | --- | --- | --- | --- |
| 2002 | Sidewalk Café | 21 | 3 | 149 | 167 | 81 | 52 | 33 | 100 | 2.44 |
| 2003 | Sidewalk Café | 18 | 0 | 133 | 116 | 48 | 37 | 21 | 117 | 1.95 |
That's a combined 39–3 for the two years, with 217 strikeouts - superb at any level of ball. That George did it facing top-flight competition most evenings makes it more so. And those numbers were put on the board when George was 52 and 53 years old. He remained a damn good pitcher (12 - 5, 3.95) through his final season in 2010, at age 61, and his final start was a game in the championships, a 4-3 loss in which he went 7 strong innings and gave up just one earned run. In an almost poetic note, George hit what appeared to be a game tying homerun in that last inning but the ball fell just a foot short of the left field fence.
Aside from being a great pitcher, George was a gentleman and a fine teammate. I faced him a couple of times as a batter and didn't strike out, but that's all I can claim; I didn't get any hits, either. In 2004, I joined the Sidewalk Café team that George was a part of, but unfortunately George spent that year on the disabled list and my interactions with him as a teammate were too few. Whenever I did spend time with him, as friend or foe, he always greeted me with a big smile and some warm words – and that's how George greeted most people at the ballpark. He was a strong competitor, but off the field he was a big friendly guy.
George Pratt was preparing for the trail hike (Appalachian Trail) of his life when he died unexpectedly in 2011. His good friend and teammate, Commissioner Mark Senna, saw to it that George's number was retired to the left field fence at M Street – an honor well-deserved for the multi-time champion and MVP.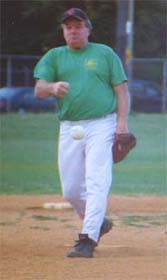 #56 - George Pratt - missed but not forgotten here at M Street
*********************************************************************************
OK, on to the results from week eight.
No ball on Monday because of "Sail Boston" and the Tall Ships disrupting some of the area, so Tuesday was the first day of play. In an "interleague" match between an "A" and a "B", the lower-level squad, Colt Recycling, gave STATS Sluggers a tightly-contested game for the early innings – only 1 – 0, STATS, entering the bottom of the fifth - but STATS pulled away for a final winning score of 10 – 1. Kevin Miller and Sam Ocel homered for STATS, but star of the game goes to pitcher Dylan Britton – only four hits allowed in seven innings of work. The team from City Tap House finally got to play their second game of the season - they played on Opening Day, but were rained out every time since. Having not played in about 45 days, the rust showed in a 16 – 8 loss to a Roza Lyons squad that looks like a strong contender for the top spot in the "B" division. Power for Roza Lyons was provided by Derek Richards and Nick "Toasty" Malatos, both with their second homers of the season, while Scott MacPhee and coach Connor Hayes both had four hit nights. For City Tap, Chris Boyd had two home runs and four RBI. The finale looked to be a good matchup in the "A" division, but Lincoln Tavern pasted VK's Club, 17 – 4. Marshall Chick and Jason Clucas homered for Lincoln, while Max Vigliotti, Sean Gorman, and Mike Kent all were perfect with mixes of walks and hits. For the losing side, Billy Botting celebrated his birthday with a solo shot homer in the fourth.
Wednesday started with the Silkworms taking a 14 – 8 decision from Playwright. Veteran Tommy Connolly went 3-for-3, 4 RBI, for Playwright, but that wasn't enough to overcome Owen Lynch's 5 RBI or (especially) Corey Livingston's 6 RBI performance that included a double, a triple, and two home runs (the triple was an attempt at a third four-bagger, but Livingston was cut down at the plate on that one.) The other game of the evening found Team Cookout giving the Junction Yard Goats a good run for their money, but coming up short, 8 - 5. The Goats kept trying to pull away, but Cookout kept it close the entire seven innings in what was probably their best game to date. Tom Powers gets the win for Junction while allowing two earned in his seven innings of work. He also went 3-for-3, including a double and a triple.
Thursday had a slate of games that promised good fun - three "A" contests to close out the week. The first two, however, were not too close. Chris Bartlett struck out five, Bret Belcastro had a home run and four RBI, and Brendan "Freedom" McGinn went 4-for-4 and drove in three, as Elevated Realty kept Harp & Bard winless via a 13 – 3 decision. Belcastro had his home run in the top of the first, to make it 3 – 0, then Kevin Greene smacked a two-run shot in the bottom of the inning, pulling Harp within one, but that was as close as it got. Elevated – sporting their brand new shirts – put six across in the fifth, to make it 10 -2, and it was pretty much over from there. The second game was over earlier than that, as Loco Pirates scored six in the top of the first, then followed that with 2 in the second, 5 in the third, 2 in the fourth, and a big curly 9 in the fifth, destroying Thirst by the final score of 24 – 2. You score 24 runs and a lot of folks' batting averages get healthy. Highlights: Josh "Trooper" McKelligan with two loooooong home runs to right center; Pat "Dub" Wilson with a homer; Josh Neely with a 4-for-4 evening and four runs scored; Pat Pickup with a perfect 3-for-3 and a walk; and Brian "Cheeks" Pacheco with the solid pitching effort to hold Thirst at bay. Special shout out to Billy Hutchins. He had three hits in four AB, including a double, and three runs batted in. He doesn't always see a lot of game action, but he's the type every winning team needs – ready to answer the call when needed, and he was needed on this night and came through big. All of his hits came with two outs and resulted in eleven runs either via his own efforts or because he kept those innings alive and turned the batting order over to the top. That's a winner.
Final game of the week gets its own huge recap because it was the best game of the season thus far. It wasn't always beautiful – there were physical errors and some mental lapses – but there were also big clutch plays, two teams who really wanted it badly and stayed fired up all night, two big comebacks, and a final play that left a very valiant warrior sad (but he almost tied the game and it was a great effort.)
OK, top of the first saw a mammoth home run by Miguel "Lenky" Dupree that may have reached the water beyond the brown wall. It never rose more than 30 feet, but it was traveling fast on a line as it cleared the wall and more than one person standing near to me when it left conjectured that it might have become waterborne. In any case, it was hellacious and it gave Southside Tavern a 3- 0 lead. They would go on to score three more before the inning was over, 6 – 0, Southside, and it looked like maybe there could be another route of a game. Nah. Pat Simpson Club got a two-out run-scoring single from Scotty Simpson, then a two-run triple from Jeff Kasper, to pull back within three, 6 – 3.
Southside didn't score in the second, but the Simpson boys pieced together a run to make it 6 – 4. Southside gets two in the top of the third, on a sac fly by Rocky Pisa and a single by Kevin "KO" O'Hara, but KO is out trying to stretch it to two bags. Southside, 8 – 4. After one out in the bottom of the third, consecutive singles by Brian Goodman, Brian Hurld, and Scotty Simpson, results in one run. Then Jeff Kasper puts one onto East First Street to tie the game, 8 – 8.
Here comes Southside again, trying to land a haymaker. Sandy Jonge doubles, Dupree singles, Toco Soto singles in Jonge, Dan Brown walks, Derek Dubois hits into a fielders choice that scores Dupree, Danny Ekasala singles in Soto, and Nate Mattson hits a sacrifice fly to score Dubois, and now Southside is up 12 – 8. Here comes the Simpsons off the canvas – Big Mike Garland singles, Pat Sullivan doubles in the run, Brian Donovan singles, Chris Flaherty doubles and Sullivan scores, and with two outs having been recorded, Brian Hurld singles to score pinch runner Bobby Gomes and Flaherty. We're tied again, 12 – 12, after four complete, and this heavyweight bout continues.
Both teams put two on in the fifth, after two outs to open the inning, but neither team can get a score. Top of the sixth sees Brown reach on an error, Dubois single, Ekasala (4-for-4 on the night) singles to load the bases, then Mattson gets Brown home on a fielders choice, another fielders choice from Billy Keenan scores Dubois, and Southside has taken the lead AGAIN, 14 – 12.
Then bottom of the sixth begins some mental pain for Simpson Club. Chris Flaherty leads off with a single. Marky Goodman doubles to score Flaherty, and it's a one-run game. After the first out of the inning is recorded, Brian Hurld singles and moves Marky Goodman to third base with the possible tying run. Scotty Simpson up – he's 3-for-3 to this point, and he hits a long shot to right center. EVERYBODY thinks this ball is hitting the ground and will score Marky to tie the game, Hurld for the go-ahead, and probably Simpson for insurance. Everybody except Nate Mattson, that is, who goes back on the ball and somehow catches the damn thing. Hurld has rounded second and is on his way to third, so a throw back in to first easily doubles him up and the score remains 14 – 13 for Southside, who are all celebrating coming off the field. Meanwhile, Marky Goodman had failed to tag up – he thought sure the ball was falling, had gone halfway down the line, and then returned to the bag when it was caught. Had he tagged up, and scored before Hurld was out at first base, that run would have tied the game.
On to the seventh. Mike Garland retires the very dangerous Jonge, Dupree and Soto, one-two-three. Simpson is still alive and kicking and they have the hammer. Rocky Pisa retires Jeff Kasper and Ryan Maguire, bringing Jay Allen to the plate with two outs in this one-run game. And Jay hits a big shot to right field that beats the outfield. He's tearing around the bases as the ball is retrieved. As he hits third base, everybody on the bench is yelling different things at him, but most are telling him to go. Then the ball is back and all the coaches start yelling at him to get back from halfway down the line. Jay desperately reverses direction and dives back at third, but the throw to Dan Brown beats Jay as he tries to grab the bag, third out, and Jay – who was clutch and came up with a big hit when needed – is left in the dirt, sucking air. Valiant effort. Southside takes this tremendously entertaining game, 14 – 13, and leaves me wondering what in hell they could do for an encore if they should meet in the playoffs. They have both won a tight one-run game in the regular season series and a playoff match-up would be a war worth seeing.
Lastly, a quick THANK YOU to City Councilor Billy Linnehan who put the pressure on the city Parks Department to provide the proper maintenance to our playing field. Linnehan was tipped off from our very own umpire, Mike Lydon. Thank you guys!
That wraps it up for this week. See you down the ballpark.
[Jim Sullivan writes for the Boston Herald on a semi-regular basis, and has been published in many other places. Go to the Boston Herald website at bostonherald.com/opinion/op_ed to see his writing there, usually on Wednesday and Sunday.]
---
A few reminders from your commissioner:

Parking - guys please leave your cars at home as the available parking spaces around the field is VERY limited. Most spaces are Resident only so unless you are a South Boston resident then you will most likely get a $40 ticket that the league cannot cover. Some relief (Thomas Butler Park on First Street will have 1200 parking spaces) is on the way but is still a year away. If possible, car pool, take the T, or bike/walk to the park and save yourself the headache.

Umpire/Scorekeeper fee - please pay the umpire $25 and pay $5 to "Sully" the official scorekeeper BEFORE the game begins.

Forfeits - we don't like forfeits in the M Street Softball League as they cost the league money and waste people's time. With that said, if you know there is a scheduled game that is going to be a problem then let me know ASAP and I will work with you in finding additional players, rescheduling the game, and/or cancelling it all together.

Inclement weather/rain outs - the league will usually make a decision by 5pm on whether or not the game is on or off. Once the decision is made then the league will reach out to the coaches - we will not leave you hanging. The league website (sbsports.com) will also be updated within minutes of a cancellation.

Bats - just a reminder that composite bats are illegal...however, bats that have a composite handle and metal barrel are OK. DeMarini Steel is a very popular bat in our league as is the Anderson RocketTech.

Equipment - the league will provide bases and also has a catcher's mask that your catcher can borrow (ask Sully) on a nightly basis.

Pitching rules - we are using the same rules as we implemented last year...that's strict modified pitching - no sling, no windmill, and no arc. It's pretty much straight back with the arm, a forward step to the plate, and deliver the ball. A great source on the "Classic Style" with videos can be found here 10manmodified.com/pitching-rules/videos-of-modified-styles/

Starting lineups - reminder, we use four outfielders, P, C, 1B, 2B, 3B, SS and if you want (optional) you can use a DH and an EH for a total of 12 players. The EH can take the field and substitute for any defensive player while the DH cannot take the field (unless injury).

Playoffs - 16 teams will be eligible for the playoffs.

Playoff eligibility - although the rosters are open there is minimum number of plate appearances or innings pitched (25) a player must meet to qualify for the playoffs.

Stats, news, etc... - please check the league website for all the latest news, standings, stats, and more.

Schedule - we tried to evenly spread out the amount of start times for each team...it's not an easy or exact science. The regular season will run from May to mid August followed by the start of the playoffs.

Wishing you and your players a great season of softball at M Street.

Sincerely,

Mark Senna
M Street Softball League