PIRATES WIN CHAMPIONSHIP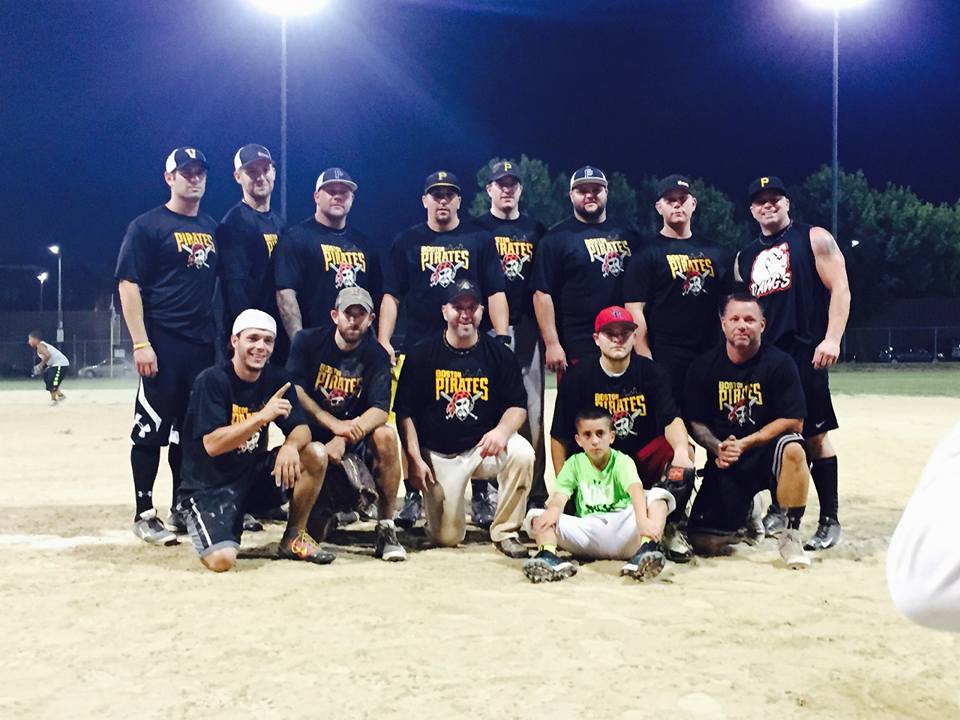 Front row, left to right - Greg Bosse, Brad Cole, Brian Pacheco, Charlie Conners Jr, Josh Neeley, Danny Ekasala.
Back row - Marc Montesano, Chris Armstrong, Pat Dolbeare, Charlie Conners, Joel Kershner, Pat Pickup, Pat Wilson, and Kevin O'Hara.
Read more details about the series on our Playoffs page
---
2015 PLAYOFF ODDS

I've done this sort of column three or four times previously. I could brag that I've picked the eventual winner of the championship every time, but - as I've also pointed out every time I've written one of these - the idea isn't to pick the winner. The oddsmaker's job is to stimulate as much action across the board as possible. That is to say, if I was actually making book on this, I would be trying to set the odds in a way that would bring me approximately the same level of profit no matter what team won it all. That the team I set as the favorite happened to win it all every time before this doesn't mean much.

Having said that, the team that won it every time was Shenannigans. And, yes, I had them as the favorite every time, but that didn't take a lot of talent on my part. They were a pretty clear choice most of those years and it was obvious that anyone taking action on the playoffs would have had to have been an idiot to make someone else the favorite.

Having said THAT, this year is not like those other years. The top five teams finished with identical records. The sixth team - Shenannigans - was one game behind those five. And every one of the four remaining teams has talent enough to make it no huge shock if they end up winning it all.

Here are the final regular season standings.

| | | | | | | |
| --- | --- | --- | --- | --- | --- | --- |
| TEAM | W | L | T | PTS | RS | RA |
| Lincoln Tavern | 12 | 4 | 0 | 24 | 223 | 151 |
| The Warehouse | 12 | 4 | 0 | 24 | 215 | 136 |
| Jerry Remy's | 12 | 4 | 0 | 24 | 210 | 106 |
| Harp & Bard | 12 | 4 | 0 | 24 | 151 | 96 |
| Pirates | 12 | 4 | 0 | 24 | 214 | 127 |
| Shenannigans | 11 | 5 | 0 | 22 | 194 | 125 |
In the battle between the teams involved in the two upcoming series, Shanny's won their lone game against Lincoln, 14-8. Warehouse won their only game against the Pirates, 13-6. But the overall records of the four teams, against others remaining? The Pirates were 3-2, Lincoln and Warehouse both 2-2, and Shanny's went 2-3.
Overall run differential? Shenannigans +69, Lincoln +72, Warehouse +79, Pirates +87. Run differential when the final four played each other? Lincoln -13, Shenannigans -8, Pirates +10, Warehouse +11. Run differential against the rest of the league, excluding their final four opponents, is therefore Lincoln +59, Shenannigans +61, Warehouse +68, Pirates +77. Warehouse and Pirates were best in all three categories, Shanny's and Lincoln were the low, BUT Warehouse has Pirates in this round and Shanny's has Lincoln.
Confused yet? Don't worry; there's more.
W/L and ERA of the probable main starting pitchers for each squad breaks down as follows (ranked in order of ERA):
Mark Dion (Shenannigans) 7-2, 3.92
Brian Pacheco (Pirates) 5-4, 4.18
Ryan Caswell (Lincoln) 11-2, 7.16
Chris Bartlett (Warehouse) 8-3, 7.95

But, head-to-head against the other finalists, again ranked by ERA…
Pacheco - 4 games, 2-2, 5.60 (Cheeks beat Shanny's twice - both times without Dion pitching for Shanny's - but lost to both Lincoln and Warehouse, BUT there was a total of 18 unearned runs against him in those two games.)
Dion - 2 games, 1-0, 7.00 (Dion beat Lincoln and had a No Decision against Warehouse after being removed because of injury. He did not throw against the Pirates this year)
Bartlett - 2 games, 1-1, 9.66 (Bartlett beat Shanny's without Dion, and lost to Lincoln head-to-head against Caswell. He did not throw against Pirates.)
Caswell - 2 games, 2-0, 10.00 (Caswell beat Warehouse, head-to-head against Bartlett, and Pirates, head-to-head against Pacheco. He did not face Shenannigans.)
There were only two head-to-head matchups all year between the probable starters - Lincoln beat Warehouse, 10-9, Caswell over Bartlett; Lincoln beat Pirates, 16-13, Caswell over Cheeks. The most important thing? The probable starters in both of the upcoming semi-final series have not faced each other this season.
How about we talk hitting for a bit? Regular season batting averages for the four teams are as follows:
Warehouse .462, Lincoln .449, Pirates .434, Shenannigans .422; edge to both Warehouse and Lincoln. BUT convert that to runs scored and it becomes Lincoln 223, Pirates 215, Warehouse 213, Shenannigans 192; edge to Lincoln and (slightly) Pirates. Power numbers? Pirates had more home runs than anyone else (48), but Lincoln was far and away the leader in extra-base hits overall with 98 (Pirates next best with 87). BUT if you look at the scoresheets with a discerning eye (and I have all of them in front of me, not to mention I was the scorekeeper and saw what happened in person) Shanny's didn't play their strongest line-up more than 3 or 4 times all year. Pirates were similarly shorthanded in a number of games. Lincoln had the steadiest group of all, with Warehouse also not having too many games when their best hitters were absent.
The foregoing is overall against the entire league. How about batting averages against the final four teams ONLY? Warehouse, .488; Shenannigans, .467; Pirates, .415; Lincoln, .403. Make it against only the probable starters and you get Warehouse, .452; Pirates, .429; Shenannigans, .419; Lincoln, .400. Just taking into account those statistical categories, you'd have Warehouse and Shanny's meeting in the finals.
See, here's the thing: all four of these teams have a legit shot at taking it all. You can look at one stat and see an edge for one team, another stat and see an edge for another team, and so on ad infinitum. Then you take into account what you've seen with your own eyes, and the fact that there was very little action between these teams where the line-ups and pitching match-ups are what you expect to see from here on out, add it all up and you get a headache, not a clear favorite. So, as I said at the beginning, you set the odds to stimulate action on all teams and that's what follows.
Shenannigans 9-5
Pirates 9-5
Warehouse 5-2
Lincoln 3-1

Make of it what you will. Again, these are just the odds, not my personal feelings on the matter. I suppose if I had to bet my balls on it, I'd say it's going to be a Shanny's and Pirates final. And if I had to bet my dick on who would win that, I'd bet on The Pirates (but very nervously and ready to run like hell if the final out went against me.) However, if Lincoln or Warehouse wins it all, and my next appearance at the park would find me doing a Caitlyn Jenner impersonation, it wouldn't be a gigantic shock. This is anybody's title to take.
[Jim Sullivan is a freelance writer, often published in the Boston Herald among other places. And, no, he will not fade your action. Odds are (as they say on football cards) for entertainment purposes only.]