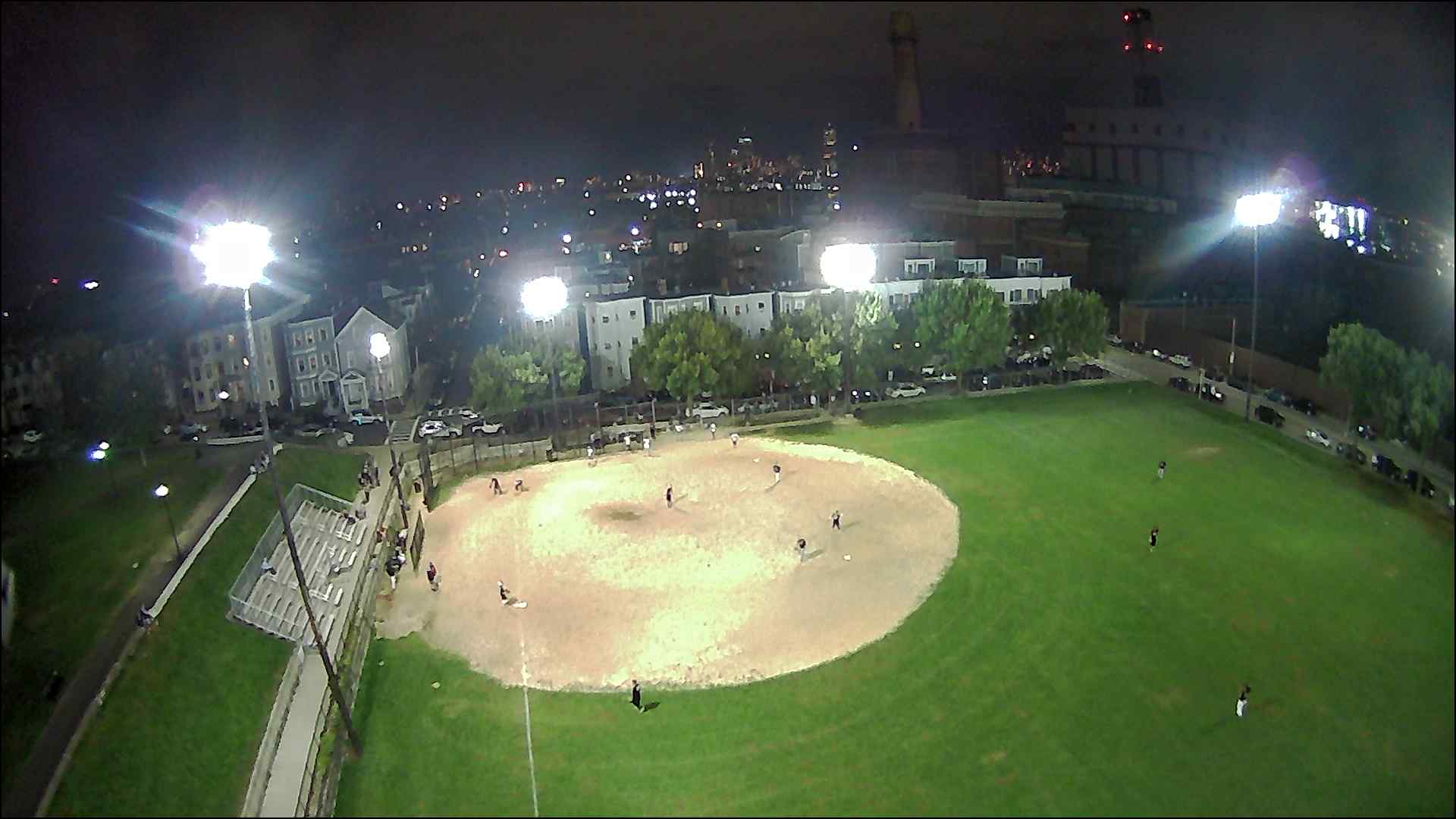 Drone footage from high above M Street Park
Lucas Division ("A") Finals
It's game four with Simpson looking to win their first championship
Game 4: Tuesday, September 24th @ 8pm
Simpson Club 4 - Southside Tavern 3
The Pat Simpson Club rallied from a 3-1 deficit in the bottom of the sixth inning to win their first M Street Championship that set off a wild celebration and firework display.
The three time defending champion Southside Tavern showed up with their game faces on and were ready to even the series from the outset. In the first inning, Southside took a quick 2-0 lead on RBI singles by Vladi Camacho and Roger Peguero. Pitcher Jason Calnan then took the mound and with a blank stare and determined way about him; retired the side in order. Things were looking very good for Southside through an inning of play.
Simpson Club got on the scoreboard in the second when Mike Garland singled home Mike Bulman, 2-1. With both Garland and Calnan on top of their game, the same score stood until the top of the fourth inning. In the fourth, an error then a clutch two out RBI single by Peguero made it 3-1 Southside. The league officials were starting to make plans for a possible game five.
Garland set the side down in order in the fifth and sixth innings which kept Simpson within striking distance. Finally in the sixth the game took a major turn both on the scoreboard and in the noise level. Calnan retired the first two batters with ease - two infield ground outs but then Mark Goodman saw an opening and went for it. For strategic reasons, Southside had deployed a five infielder defense and went with three outfielders all game long. The outfielders were shifted far left for Goodman, who has been known as a dead pull hitter. With one peak to right, Goodman lined the first pitch he saw to right which went for a triple. As he pulled up to third base the stalky outfielder yelled, "come on, let's go!" Next up was Mike Lush who had been delivering key hits throughout the playoffs. On a 1-1 offering, Lush hit a missle to the left center gap that went for a double and easily plated Goodman, 3-2. With cow bells clanging from the stands and the Simpson Club going wild on the sideline, the pressure was now mounting on Southside and Calnan's shoulders.
Southside halted play and several players gathered at the mound to pick up their pitcher. "I got this, I'm Ok," Calnan reassured his team that he wasn't unraveling and that he felt he could get out of the inning with the lead. Mike Bulman stepped into the batter's box as fellow league official, Jim Sullivan, noted that Bulman is one of M Street's fastest runners. Calnan couldn't find the plate against Bulman and walked him on four pitches. Still up a run with two outs and two men on base, the Southside infielders gathered around their pitcher for another discussion - this one was lengthy. Team captain and brother of the team's namesake, Scott Simpson was the sixth batter of the inning. Simpson took a mighty rip at Calnan's first offering but fouled it off, 0-1. On a 1-1 count, Simpson hit a grounder to the right side of the infield that eluded everyone but was quickly cut off by Vladi Camacho in right field. Lush roared around third and raced towards home as Camacho's throw appeared to be on target. It was going to be close. The throw, arrived a bit high and towards the first base side, which catcher Luis Fonseca quickly snagged and spun around with a sweep tag. However, Lush had slid in head first just before the tag was applied to his back and we had a tied game, 3-3. The crowd was in a real frenzy now. After a brief discussion with home plate umpire Mike Lydon, Bulman was standing at third and Simpson had pulled up to second on the throw.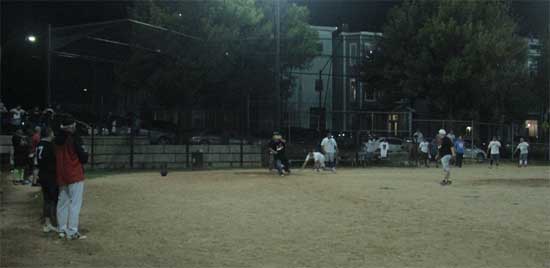 MVP - Mike Lush begins his slide at home
With Calnan a bit rattled and the Simpson Club going crazy, Southside discussed their strategy again and pitched around Garland to get to Jeff Kasper. Team bull horn/injured pitcher, Jerry Sarro, could be heard on every pitch...shouting encouragement to his batter while trying everything he could to get Calnan to lose his focus. "Get the cow bells going, get the cow bells going," yelled Sarro. Calnan fell behind 3-1 and for whatever reason, another discussion was held on the mound. The next pitch was in the dirt and in five pitches, as dramatic as this game was, Kasper had walked to force Bulman home and put Simpson ahead, 4-3. Calnan then recovered and produced and inning ending ground out and we were on to the seventh inning as it was suddenly last call for Southside.
At this point, Garland and his Simpson Club teammates could feel the championship victory was very near. One they had been searching for since they entered the league in 2016. Garland was on a role as he had retired seven straight batters with the last hit coming in the fourth inning. On the third pitch of the inning, the lefty Camacho lofted a fly ball to short left that looked as if it could fall for a leadoff hit but Goodman raced in and squeezed the out with two hands. Eight in a row. Next up was lefty hitter Roger Peguero, who also hit a fly to left but this was routine and easily handled by Goodman. Nine in a row retired by Garland and one out away from a championship. Javy Colon, who pitched Southside to the finals with his brilliant relief work in the Pirates series, was their last chance and was also a lefty. On a 1-2 count, Colon lifted another ball to left and this one had the same arc as the first out...destined to find grass. But Goodman, who started the rally in the sixth with a head's up triple, raced in and squeezed the final out. Garland had retired ten in a row and the Simpson Club were the 2019 Lucas ("A") champions.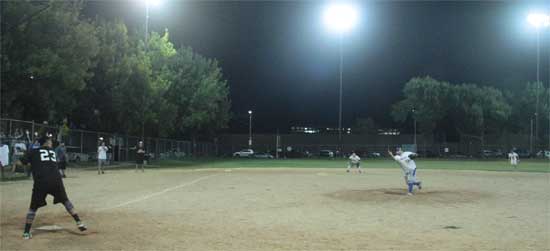 MVP - Mike Garland fires the last pitch of the series
A wild celebration began at third base as relief, satisfaction, purpose, and reflection all poured over the players. The team quickly broke from the celebration to meet with Southside (who were very gracious in defeat) and exchange handshakes. Once that was out of the way, fireworks were set off from the pitcher's mound. Yes, real fireworks folks! Colorful star shells were exploding over the M Street field which was a beautiful site to see. Afterwards, the team gathered at home plate for the presentation of the M Street Cup. The massive 30lb league relic was placed at home plate as the players gathered around for a team photo. It was then announced that pitcher Mike Garland (7-2 in playoffs) and Mike Lush were named MVP's by the league commissioner (yours truly). After all the crazy celebrations were done, Scott Simpson and his parents gathered around the trophy for a photo and an emotional embrace. Tears flowed as they remembered their son and brother, Pat, who was looking down upon them all flashing his proud championship smile.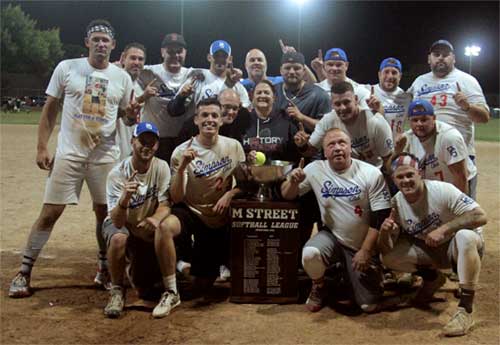 2019 Lucas Division ("A") Champions - Pat Simpson Club
Front row left to right - Matt Savage, Mike Bulman, Pat Sullivan, and Scott Simpson
Middle row left to right - Mr and Mrs Simpson, Brad Morrill, and Mark Goodman
Back row left to right - Mike Lush, Marc Coppola, Brian Hurld, Chris Flaherty, Jerry Sarro, Andrew Stover, Jeff Kasper, Pat Triggs, and Mike Garland.
Missing from the photo is Brian Goodman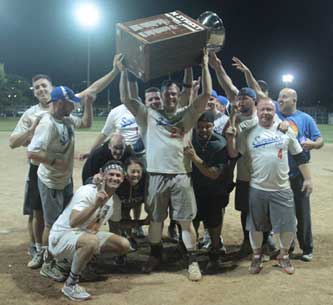 ---
Simpson wins championship 3-1
The series is tied 1-1 with a pivotal game three on tap
---
Game 3: Monday, September 23rd @ 8:30
Simpson Club 19 - Southside Tavern 5

The Pat Simpson Club scored eight runs in the first inning to chase starting pitcher Miguel Dupree, and never trailed as they win easily and go ahead 2-1 in the Lucas finals.

Control issues and a few timely hits were to blame in this one as Dupree lost the ability to throw strikes. With two outs and two Simpson hitters already on by way of walks, Dupree then walked Brian Hurld to load the bases for Scott Simpson. The strong righty waited for his pitch and then lined a double to left center that scored two, 2-0. Another walk loaded the bases for Jeff Kasper. On a team of stars, Kasper doesn't draw a lot of attention but he is one of their talented "under the radar" players. With one swing, Kasper cleared the bases and put Simpson up 5-0. The scoring wasn't complete, another walk followed by a RBI single by Matt Savage made it 6-0. Chris Flaherty capped the scoring off with another timely hit, 8-0 and it was the end of the night on the mound for Dupree.

Championship teams know how to respond when down and that's exactly what Southside did in the bottom of the second. With two runners on base and one out, Gio Colon laced a double to left making it 8-2. An error followed and suddenly the Simpson Club was playing tight. Kevin Ohara made it 8-3 with a single to center, Dupree made it 8-5 with another single as Ohara barked "here we come!"

However, this version of the Simpson Club wasn't about to let the champions off the ropes...at least not easily. In the top of the third, a lead off triple by Chris Flaherty got the scoring started. Mark Goodman then followed with a RBI single making it 9-5. Mike Lush followed with a clutch double and Simpson was back up and feeling good again, 12-5.

Pitcher Mike Garland then retired the side in order in the third and one could feel this was Simpson's night. After a quiet fourth inning with no scoring, Simpson's offense went back to work in the fifth. With the bases loaded, Lush came through with his second big hit of the game when he cleared the fences with a three run home run, 15-5. A double to Bulman and Hurld led to another run, 16-5. Garland brought Hurld in with a sacrifice fly, 17-5. Kasper, Pat Sullivan, and Savage got in the act and before you knew it, the Simpson Club had blown this wide open, 19-5.

Needing three runs to avoid the "12 run mercy rule", Southside managed to load the bases in the bottom of the fifth but couldn't push any runs across as they fell hard in game three and will need to regroup to even the series in game four.
---
Southside led the best of five series final 1-0 over the Simpson Club
Game 2: Wednesday, September 18th @ 7PM
Simpson Club 13 - Southside Tavern 4
After a scoreless first inning, the Simpson Club's offense erupted in the bottom of the second inning by scoring seven runs and then coasted to a series tying victory over Southside Tavern.
With one out and bases loaded, Pat Triggs opened the scoring with a hard hit single. Matt Savage then followed with another single that drove in two more runs, 3-0. Chris Flaherty got in the act with a RBI single and then Mark Goodman was walked to reload the bases. At this point, the bullpen was stirring for Southside as MVP pitcher Jason Calnan was getting roughed up on the mound. Before getting pulled Calnan was touched up for two more runs on Mike "Playing for a Purpose" Lush's two run single, 6-0. Taking over was Javy Colon who has been excellent on the mound this year. The former shortstop yielded a run on a fielder's choice then got the next batter to end the inning, 7-0.
Southside cut into the lead in the fourth when Simpson's pitcher, Mike Garland, ran into his own problems. Garland, who has great control, was struggling (9 walks) to find the plate on this night. In fact, he walked the bases loaded and then gave up a run via a walk to Colon, 7-1. With the Simpson Club fielder's getting antsy but with nowhere to turn they gathered at the mound to pick up their burly pitcher. A ground out scored another run but then Garland escaped the jam with a routine fly out, 7-2.
Southside loaded the bases again in the fifth which brought on more anxious moments but Garland minimized the damage by giving up just a run, 7-3. The Simpson Club answered with two runs in the home half of the inning on RBI hits by Scott Simpson and Pat Triggs, 9-3.
Again, Southside loaded the bases in the sixth but couldn't get that one big hit to put them back in the game. Instead, they settled for a single run and wondered what could have been, 9-4. Simpson's offense finally broke through against a laboring Colon (sore knee) in the bottom of the sixth when Garland doubled home two runs and later scored on another Triggs single, 13-4.
Southside went down in order in the seventh and we had a tied series (1-1). The teams will take a break and resume on Monday with a big game three. Simpson Club clearly has the momentum now but the experience of the Southside team can quickly turn that around.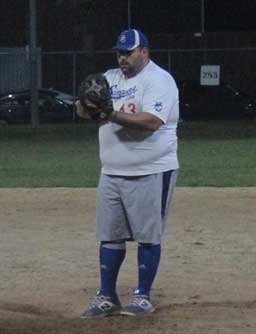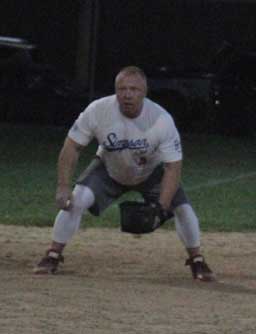 Simpson Club's pitcher Mike Garland and thirdbaseman Pat Sullivan
---
It's the Lucas division finals - Southside looks for their fourth straight championship while the Simpson Club is playing in their first finals
Game 1: Tuesday, September 17th @ 8:30
Southside 5 - Simpson Club 3
In a game that was lacking offense but featured very effective pitching by both sides, Southside takes game one when they plate three late runs.
The Simpson Club opened the scoring when they took advantage of a couple of miscues and got a timely hit by Matt Savage, 2-0. Southside responded in the bottom of the third when lefty Sam MacDonald hit another one of his line drive doubles to right center, 2-1. MacDonald then scored the tying run on Miguel Dupree's (3 hits, 3 RBI) single.
Simpson Club regained the lead in the fourth when Scott Simpson led off with a double and was chased home by Mike Garland's single, 3-2. The boys in white then loaded the bases and had the top of the order up. However, pitcher Javy Lopez weasled out of the jam by producing an infield pop up and a routine fly ball out. The lack of additional runs in this spot would come back to haunt the Simpson Club.
The game moved to the bottom of the fifth with Simpson still clinging to a 3-2 lead. Southside loaded the bases for MacDonald but the steady hitter lost the battle to pitcher Mike Garland and hit an infield fly. Now with two outs and the bases still loaded, Miguel Dupree stepped into the batter's box. Dupree ripped a double to left center that scored two but got the trailing runner thrown out at the plate, 4-3 Southside.
In the sixth, things got out of hand as they sometimes do in the heat of the battle. With runners on first and second, Matt Savage hit a grounder to the second baseman that was handled and tossed to second for the force out. However, the shortstop appeared to have dropped the ball but the umpire had called out the baserunner. There was an argument and threats an dmore arguing and more threats. When things finally cooled down the inning came to an end on a routine fly out. With a safe call here the thinking is that Simpson Club would have at least tied the game but who knows as the next batter could have struck out and made it all moot.
In any case, with the feeling that they had been robbed of an opportunity if not at least a run, the Simpson Club gave up another in the bottom of the sixth and then went down 1-2-3 in the seventh. They will need to quickly put this one behind them or face the daunting task of needing to win three in a row.
Mike Lush made an outstanding play in the second inning when he snagged a ball that was hit over his head and beyond his glove hand reach...so he caught it with his bare hand. Outstanding!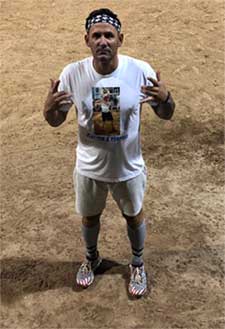 Mike Lush sports his "Play for a Purpose"
shirt in memory of Pat Simpson
---
Moran/Feeney Division ("B") Finals
Telegraph Hill comes roaring back from a three run deficit to win their first championship
Game 4 - Monday, September 23rd @ 7 PM
Handdukies 9 - Telegraph Hill 6
Trailing 6-3 in the top of the sixth inning, Telegraph Hill scored three to tie it in the sixth and then added three more runs in the seventh to win their first M Street Softball championship in their first year of league play - impressive!
Before the late inning heroics, it was looking good for Dukies as they jumped out to a 4-0 lead through two innings of play. Richie Paris opened the scoring with a RBI triple and then scored on Shawn McDonagh's single, 2-0. Dukies then got some help when back-to-back infield errors led to two more runs.
However, Telegraph wasn't about to let the game get away from them as they answered with two runs of their own in the top of the third. With the bases loaded and two outs, Luke Serra roped a single to center that scored Ryan McCarthy and Kyle Dell'Arciprete. Telegraph added another run in the top of the fourth when Scott Howard singled home Brendan Fox, 4-3.
Again, Dukies had an answer as they loaded the bases for Paris who quickly drove a single through the infield that scored Billy Kiley, 5-3. Unfortunately for Dukies, they couldn't get any more runs as pitcher Mike Araujo worked some magic an escaped the jam without further damage. The failure to score in that situation became even more important as the Dukies had pushed across another run on Colin McNeil's single, 6-3 after five innings of play.
Everything changed in the top of the sixth when lefty Matt Doyle's one out line drive to short was mishandled. Instead of having two outs and nobody on base, there was one out and a runner on first. Fox collected his second hit of the game and made Dukies pay for the error when he split the outfield center gap for a two run home run, 6-5. Suddenly, Telegraph had the momentum and were feeling it again. It was now Alex Cooper's turn and the tall righty didn't miss the opportunity. Cooper fouled off the first pitch then hammered an outside pitch to deep center. As he made his way to first, he raised his right hand up and extended his index finger making a #1. The ball cleared the trees in center and the game was tied 6-6. The Telegraph players and fans were enjoying every bit of the moment.
In the bottom of the sixth, Dukies put two runners on but the inning and threat ended on a routine fly to right. The pressure was now back on Dukies and pitcher Shawn McDonagh.
In the top of the seventh, the hot hitting Araujo led off with a sharp single through the infield on the right side. Sean Hill followed with another single to right and Telegraph had the makings of a big inning. However, McDonagh got the next batter on an infield pop out and was suddenly a ground ball away from getting out of the jam.
The burly right hander got the ground ball he needed off the bat of Dell'Arciprete but it was just out of the reach of the diving short stop and went into center for a single. Araujo, with his speed and head's up base running had already been sprinting for third and easily scored on the play, 7-6 Telegraph. Catcher Matt Barnes was up next and on a 1-1 count, Barnes lined a double down the left field line that scored Hill and Dell'Arciprete - it was a crushing blow for Dukies who now trailed by three with one more inning to play.
It was last call for Dukies and they would need some luck to go along with some timely hits. Unfortunately for them, they would get neither. First up was Mike Jay who ripped a line drive that was destined for the outfield gap but was snagged by the shortstop for the first out of the inning. The ball was hit so hard that Jay didn't get two steps out of the box before it was caught. Colin McNeil was next and swung at the first pitch he saw - it was a good one too and he handled it perfectly. McNeil had laced another line drive but the third baseman caught it about two inches off the field for the second out of the inning. No luck - two hard hit balls that went for outs.
One out away from a championship is all that stood in the way for Araujo and Telegraph. Perhaps the excitement of the moment got to the pitcher as he walked Kiley on four pitches. Mike Ball was next and saw that Araujo was struggling with his control. He let the first two sail by and both were called balls...six balls in a row thrown out of the strike zone. Dukies needed base runners so Ball must have been thinking he needs to take a couple of pitches to try and draw the walk. Araujo's next offering was a strike and the fourth pitch of the at bat was right down the middle for strike two. Dukies hopes are now back on Ball's shoulders and he just let a very good pitch sail by. Araujo rocked and then fired and outside waist high pitch that Ball lunged for and came up empty. Telegraph Hill had completed a magical season by winning the Feeney/Moran ("B") championship in their very first year of playing at M Street. Impressive!
After a brief celebration at the mound the boys in black and gold broke away to meet Dukies and exchange handshakes. They then lined up along the first base line for a team photo and to receive the "M Street Cup" from the league commissioner (yours truly). Pitcher Mike Araujo was announced as the finals MVP which brought a roar of approval from his teammates. Team captain Scott Howard was then presented with the championship prize money to again, more applause and approval from the Telegraph players. The team didn't want to part with the "Cup" just yet so they decided to take it to their sponsor on Dorchester Street and continue the party. At around 10pm, Cooper and Hill brought the trophy back to the field and were all smiles. One of the classiest teams at M Street were now also champions. Congratulations!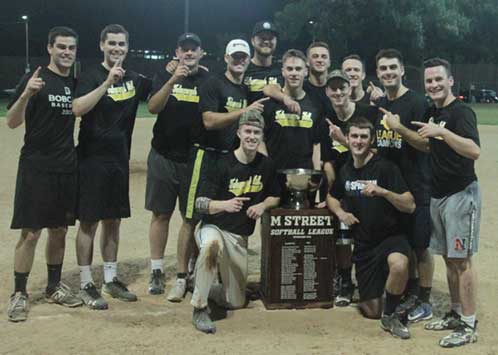 Telegraph Hill 2019 Feeney/Moran "B" Champions
Front row kneeling (L-R): Matt Barnes and Luke Serra
Back row (L-R): Brendon Canavan, Matt Doyle, Kyle Dell'Arciprete, Brendan Fox, Alex Cooper,
Joe McMahon, Matt Casieri, Scott Howard, Ryan McCarthy, Mike Araujo, and Sean Hill.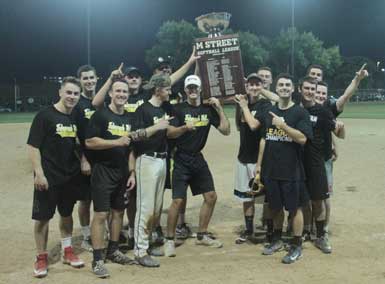 ---
Telegraph wins series 3-1
With the best of five series tied 1-1, tonight one team will be within a win of a championship
Game 3 - Wednesday, September 18th @ 8:30 PM
Telegraph Hill 7 - Handdukies 6
Telegraph Hill moved a step closer to capturing their first M Street championship when they pulled off a 7-6 nailbiter over the Handdukies in game three of the Feeney/Moran finals.
Trailing 1-0 in the bottom of the third, Telegraph scored two runs to pull ahead and then never trailed. It was Matt Barnes' RBI triple and Luke Serra's sacrifice fly that plated the two runs. Telegraph went back to work the following inning when Kyle Dell'Arciprete single scored Brendon Canavan from second, 3-1. Now with two outs in the inning the scoring continued. Ryan McCarthy chased a run home with another RBI single and then scored on Mike Araujo's two run triple, 7-1.
With a comfortable lead in hand, the last thing Telegraph wanted to do was hand the Dukies any runs or momentum but they were not going to be denied. Chris Burns led off with a single and took second on Pat O'Sullivan's one out walk. Shawn McDonagh then made it a 7-2 game when he ripped a single up the middle. A pop out and then a walk left the bases loaded with two outs for the Dukies best hitter, Mike Durant. Telegraph pitched him carefully and Durant worked an RBI walk, 7-3. Not a bad strategy if you get the next batter out but that didn't happen as Mike Jay made them pay with bases clearing triple, 7-6. The hit brought the Dukies bench to life and put the outcome of the game back in question - momentum had swung.
In the bottom of the fifth, pitcher Shawn McDonagh knew he couldn't allow the Telegraph offense to put any runs on the board. The big righty came through with an easy inning and had his teammates racing in from the field looking to get their licks in. It was hitters 4-5-6 in the lineup but just as fast as they raced in, they were back in the field after three straight ground outs.
McDonagh gave the Dukies a fighting chance by throwing a scoreless sixth inning. It was on to the seventh and last call for Dukies. Araujo quickly got a ground out and then a pop out before surrendering a walk (his 8th) to O'Sullivan. Dukies had life but it was short lived as an easy infield fly ending things and put Telegraph Hill back on top in this best of five series.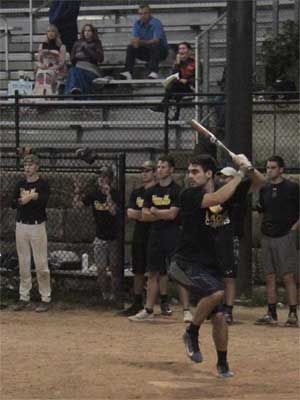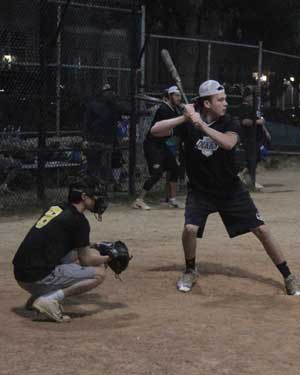 Trailing by a game, Telegraph is looking to even the series
Game 2 - Tuesday, September 17th @ 7 PM
Telegraph Hill 13 - Handdukies 9
The Handdukies came out with purpose again tonight as they took the lead and carried it through four innings of play. However, it was Telegraph's turn to flip the script and earn the victory.
With Dukies leading 8-4 heading in the top of the fifth inning, Telegraph had runners on first and second with two outs when the flood gates opened. A two run single by Brendon Canavan made it 8-6 which brought the bench to life. Another single and a walk loaded the bases and Telegraph went to work. RBI singles by Ryan McCarthy, Sean Hill, Joe McMahon, Mike Araujo, and Robert Jones put Telegraph ahead 10-8. From that point forward, pitcher Araujo was in shut down mode as the Dukies batters couldn't find the green pasture as they had in the earlier innings.
Instead, Telegraph added three more insurance runs in the top of the seventh on another clutch two run single by Araujo. The game would end with Dukies being outscored 9-1 over the last three innings of play. If they didn't learn that Telegraph was not going to fold last night, then they did tonight. The win evened the series and promised the fans that there would be at least four games needed to find our champion but I'm thinking this is going the distance.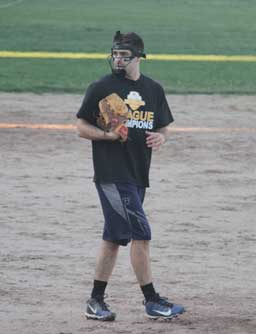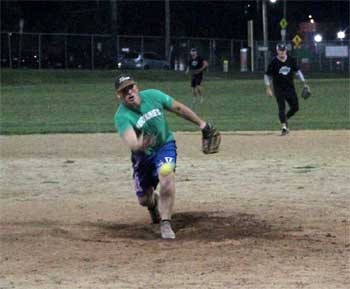 Pitchers Mike Araujo (left) and Brian Walsh (in green) battle in game two of the Feeney/Moran Finals.
---
Game 1 - Monday, September 16th @ 6 PM
Handdukies 9 - Fat Baby 7

Telegraph Hill's offense batted through the order in the bottom of the first inning when they erupted for five runs and appeared to have control of game one. However, the scrappy Dukies eleven stayed with the game plan as they hung in until an opportunity presented itself.

In Hill's first inning, Brendon Canavan got the scoring started with a two out double. A walk, an error, and three hits later Hill had quickly and efficiently put up five runs, 5-1. Dukies responded in the top of the third when Mike Durant (3 hits) connected for a two run homerun, 5-3. The score would stand until the fifth when the two teams traded runs, 6-4.

With Dukies still within striking distance and the game getting late, the sixth inning seemed like a perfect time to turn the tables. With one out in the books, four straight singles including one by Kevin Moran tied the game at six. After a ground out, Dukies got three more RBI singles by Mike Jay, Shawn McDonagh (3 hits), and Marcus Egan to make it 9-6. They had completed the comeback and were now confidently pumping their chests.

In the home half of the sixth, Telegraph's Alex Cooper answered back with a solo blast to make it 9-7. However, that would be the last of the scoring as burly pitcher Shawn McDonagh wasn't going to be knocked off his game on this night. In their race to win three games, the Handdukies had kept the scoring down and got timely hits when needed to pull off an impressive game one victory.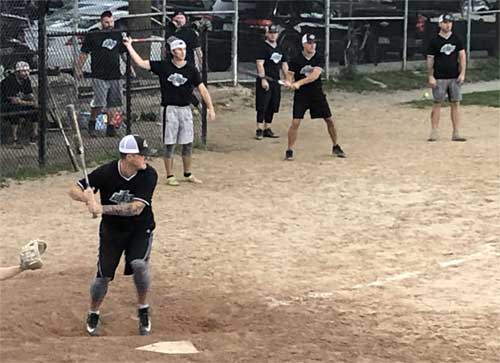 Dukies Marcus Egan takes aim at a pitch in game one of the finals.
---
M Street Softball playoff games will be played Monday through Wednesday this week with games starting at 7PM, and 8:30pm. The league does not charge a fee for entrance and encourages neighbors, former players, and families to attend the games. Have a great week everyone and we hope to see you in the stands.
---
Important reminders from your commissioner:

Parking - guys please leave your cars at home as the available parking spaces around the field is VERY, VERY limited. Most spaces are Resident only so unless you are a South Boston resident then you will most likely get a $40 ticket that the league cannot cover. We are told that some parking relief (Thomas Butler Park on First Street will have some residential spaces available) is on the way but isn't complete. If possible, car pool, take the MBTA/City Point bus, or bike/walk to the park and save yourself the headache.

Umpire/Scorekeeper fee - please pay the umpire $25 and pay $5 to the official scorekeeper BEFORE the game begins.

Forfeits - forfeits are not acceptable in the M Street Softball League as they cost the league money and waste everyone's time. With that said, if you know there is a scheduled game that is going to be a problem then let me know ASAP and I will work with you in finding additional players and/or cancelling the game all together.

Inclement weather/rain outs - the league will usually make a decision by 5pm on whether or not the game is on or off. Once the decision is made then the league will reach out to the coaches - we will not leave you without word. The league website (sbsports.com) will also be updated within minutes of a cancellation.

Bats - just a reminder that composite bats are illegal...however, bats that have a composite handle and metal barrel are OK. DeMarini Steel is a very popular bat in our league as is the Anderson RocketTech. There was talk about banning doublewall bats and going with single wall bats moving forward. Since we told teams that double walled bats were legal last season and plenty were purchased we feel that we cannot change the rule at this time.

Equipment - the league will provide bases and also has a catcher's mask that your catcher can borrow (ask the scorekeeper or umpire) on a nightly basis.

Pitching rules - we are using the same rules as we implemented last year...that's strict modified pitching - no sling, no windmill, and no arc. It's pretty much straight back with the arm, a forward step to the plate, and deliver the ball. A great source on the "Classic Style" with videos can be found here 10manmodified.com/pitching-rules/videos-of-modified-styles/

Starting lineups - reminder, we use four outfielders, P, C, 1B, 2B, 3B, SS and if you want (optional) you can use a DH and an EH for a total of 12 players. The EH can take the field and substitute for any defensive player while the DH cannot take the field (unless injury).

Playoffs - 16 teams will be eligible for the playoffs (8 from the "A" and 8 from the "B"). We will have two (A & B) champions in 2019.

Playoff eligibility - although the rosters are open there is minimum number of plate appearances or innings pitched (25) a player must meet to qualify for the playoffs.

Stats, news, etc... - please check the league website for all the latest news, standings, stats, and more.

Schedule - we tried to evenly spread out the amount of start times for each team...it's not an easy or exact science. The regular season will run from May to mid August followed by the start of the playoffs.

Wishing you and your players a great season of softball at M Street.

Sincerely,

Mark Senna
M Street Softball League